Oh and Beechworth Bakery: just OK - only just.
Almost every country town has a better bakery.
whatever is on sale.
Four and twenty beef pie with pale
ale is good.
The Herbert Adams beef with shiraz and cracked pepper one is the ■■■■
Tony's Pies in Buckley St are the mutt's nuts, as are the pies at Molly Dene's in Centre Rd, near Thomas St, in Bentleigh.
Pies in PF are quite good, although the curried prawn ones from Cobb's, while tasty, go straight through me. Sausage rolls from Sheehan's butchers are A1.
For frozen pies, I go for the party jobbies, 4'n'20 or Adams (same people these days).
Only tried the snag rolls at Clarkes in Mortlake. About a 3/10.
Non Freezer?
Gum tree pies in Bright. Amazing!!
Patties owns 420, adams and nannas etc
Yes…that was my go to place when I still lived in Melbourne.
True story: Tony went to school with my older sister and I went to school with his younger sister
opportunity missed?!
they also make these pasta wheels that are amazing!
Seriously do yourselves a favour
I know its not in the rules here, but i just picked up a few pies from Emerald Village bakery today. They're great.
I was actually in the minority and preferred the old 'footy pie' to Four n Twenty.
I well remember preferring a "Noon" Pie over a 4n20 when they seemed to be the top 2 main Pie rivals.
Anyone else remember Noons??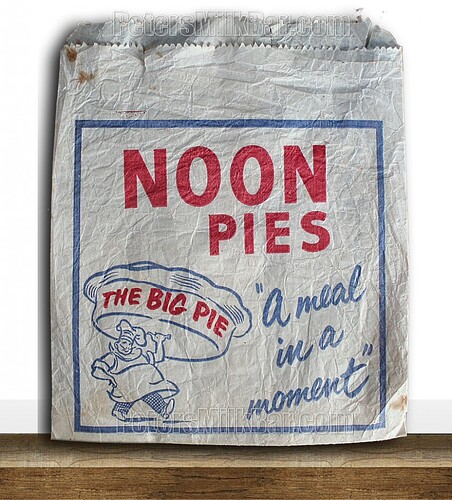 Yep, he's back from his cruise, out of two weeks quarantine and posting on here quite regularly.
Absolutely superb but I haven't seen any frozen ones in supermarkets, only ones in the refrigerator section. We always keep a few Vili's in the freezer at home. They do wicked potato pies and their pastries are great too. Whenever I'm around Mile End at lunchtime I call past to grab something
They're the best. The Foodlands have them sometimes.
Seriously though for pie lovers, get yourselves a $29 Kmart pie maker, have puff pastry on hand in the freezer and make pies whenever you want with whatever filling like. It's great.
Noon's were the pies we had in the school shop.
Long time ago though.
At uni, in the cafeteria, they had these square Big Ben pies from Sydney (I believe) and they were ordinary.
Proper National Pies chicken and camembert pies from Woolworths are seriously good.
They're party pie size, and they're oven only, but because they're so small it doesn't take long to cook.
They have meat pies, too, but I've never seen them at the supermarket.
Seconded - better than their beef pies which upset my stomach for some reason.