What a glorious blue sky morning it is.
Let the Blues suffer the blues.
Hey Carlton…
Stewart, Hartley, Myers, Bellchambers all added to the lineups we rolled out earlier in the year.
V Carlton last time we had Brown, Hocking, Leuey, Stanton and Langford running around.
I think we've "changes up" the team. We just haven't brought in rookies.
Im worried about Carltons form line. 4 losses in a row, the laws of probability go up for a win the longer they have been losing… put it all on blue, where gonna lose.
Has anybody got the one where Hibbo is photoshopped out?
That was my favourite blitz gif.
The broken matt hardy gifs are the best thing about blitz right now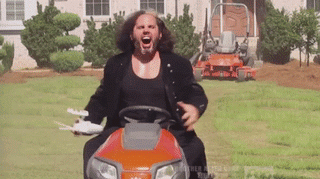 What's the definition of madness?
Then you remember we've had pretty much our best 22 available all year.
If the kids where knocking down the door, but they are not. Have been solid only, the coaching staff are playing best available as they should be.
Fark carlton really brings out the best in you good sir! Bravo!
Keeping showing off that caring, charming, happy side of you. Love it!
curnow to jump on hurleys head and show us why we should have taken him over franga
Pure 'Essington' mode set to be engaged today with our season all but finishing last week.
11 goal to 9 game coming up. Probably their way. $4.35 for a Blues win is ridiculous given the history of these games and our mediocre performances.
I'm not normally like this, but we are going to smash these ■■■■■■ today.
You know it's a MCG home game when you walk in and blasting from the speakers…
Woahhheyyyyyy
Guess what time it is noooooow
Ohhhhh heyyyy owew
RELAX
DONT DO IT
WHEN YA WANNA
CUUUUUUUM