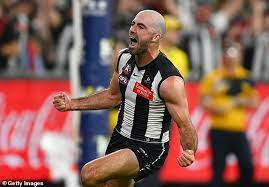 finish us sidearse
FINISH US
been a long 5 weeks or so, too many close games or blow outs, the thrashing last week was the nail in the coffin for the 2023 season for me, I won't be watching the pies game tonight, no interest. More wins this year(11 i believe), but still 12 with a possible 13th loss tonight, does not equate to a pass mark for the year. Anywhere between a 6 to 10 goal hiding for the pies game, closer to the 10 goal. Bring on 2024!!
Yup pretending tonight doesn't exist
Going to be out having a few drinks and a feed with a bunch of people who care very little about footy
See you next year Essington
I know, Super Hans, I know.
forgot there was a game today.
Too busy complaining on facebook, twitter(X) and Instagram on VOSS not being selected

I will be watching to see what sort of response the team makes after the inept and insipid, non competitive performance from last week. Go Bombers.
126 points……. DOT DOT DOT
FINISH US….(or at least give us something to hopelessly cling onto for another season)
My daughter likes to refer to sidebum as marshmallow head because it's so white, so tonight I to shall refer to him as marshmallow head( while he has 28 disposals and 3 sausages)
40 goal win, GWS and Footscray lose, ALL CHIPS IN
Collingwood rarely thrash teams and they have some key outs.
I reckon it will be a really boring game, and Collingwood will win by 40 points.
WEID WILL BREAK FRED FANNING'S RECORD THEN BEAT HIS CHEST LIKE HE'S CHANNELING BIG CALE HOOKER AND YOU ALL WILL LOVE IT.
Seems appropriate, against the PIes.