Watch how long she is in the play for; the rest of the pack is bloody spectating…
Alex Renton (nee Quigley) kicked two goals, including the match winner, for Oak Park in the EDFL Women's Premier Division Grand Final

Fair to say Quigs did alright this year: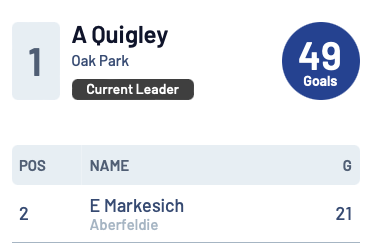 Also kicked 6 of Oak Park's 7 goals last week to knock out Moonee Valley (Scarlett Orritt was in the MP bests).
Aberfeldie only lost one other game in the year, which was courtesy of Sarah Grunden at Keilor kicking 2 of the game's 3 goals. They beat Oak Park three times before today.
Jess Bates carried the Pies to the Grand Final.
After taking part in all 17 games throughout 2023, the 2022 SANFL league Best and Fairest winner finished the count on an impressive 233 votes.

In second place for the count of was Elisabeth Jackson with 96 votes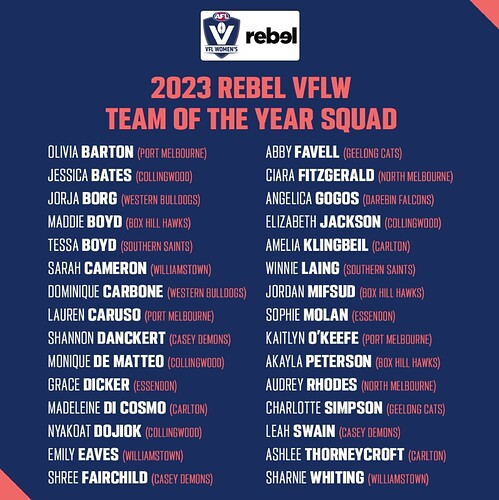 30 players to be trimmed down when to the actual team when the VFLM finally finishes.
VFLW judges picked our top two B&Fers, Molan and Dicker.
Also there are Liv Barton, Jorja Borg, Lauren Caruso, and Monique DeMatteeeeeeeeeeooooooooooooo.
I failed to screen-capture the VFLW leaderboard at 6 rounds in. Suffice to say no one is beating Nanscawen's 33 from a possible 36* votes from last year.
Bates not present in the top six (?)
Count of "Andrew Dillon is corrupt" jokes so far: 1


*well, 42, but she missed two games via injury
Simpson averaged 22.8 disposals across the season, include her bests of 31 in rounds 4 and 5.
She missed round 8 and 12, and the Cats went from top of the ladder to missing finals. So don't lock it in!
VFLW Rising Star winner has to be <25yo (very generous) and not previously an AFLW player.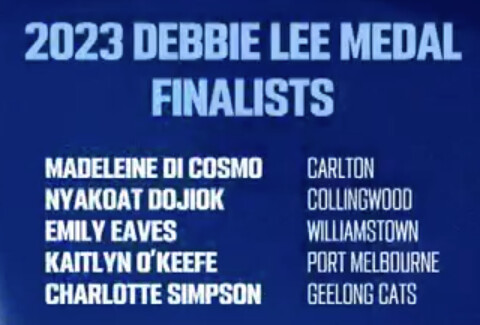 Simpson wins.
Ha, second-place got up to 61. Bates ended on 101.
Radford and Dicker on the very short list of players this year to equal/beat her one-on-one.
Team of the year time!
Sophie played a total of zero games at full-back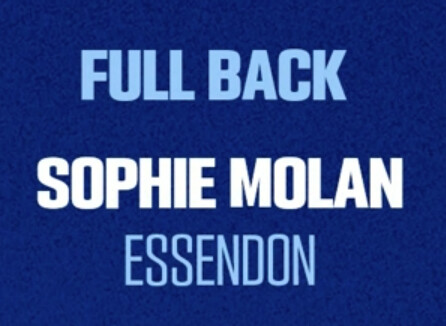 Selectors have no Grace

Bates gets ruck rover and captaincy.
Bates' round 11 is 38 disposals and 2 goals, so may pop in from off-screen after that.
Laing 11-16 disposals in the last four games; the Saints lose 3 of those games.
Thorneycroft middling stats in the closing rounds.
Meier some of her worst disposal tallies in the last four losses.
Mifsud has the Hawks rallying for the end of the season, but only one big disposal game.
Scott has Norf charging at the end (well, until the last round flop).
---
Simpson misses round 12 and her Cats crash at the end.
I think I've concluded no one is good enough to win. Can someone get to 17 and be more than half the player Nanscawen was?