I'll go stress: Heppell and Merrett
Any chance of converting my winnings to BLITZCOIN and cashing out?
If that's one game then yes.
50% on D Clarke and whatever the remainder is on M. Bags please sir. Nervous.
stress Redman and Ambrose please.
Ah sorry, forgot I was back on this week.
Can I stress Hooker and Daniher please Colonel? 50% funds each.
Thanks
Here are potential standings if R9 side plays as named. These do not include Win Jackpot or Best Player Bonuses.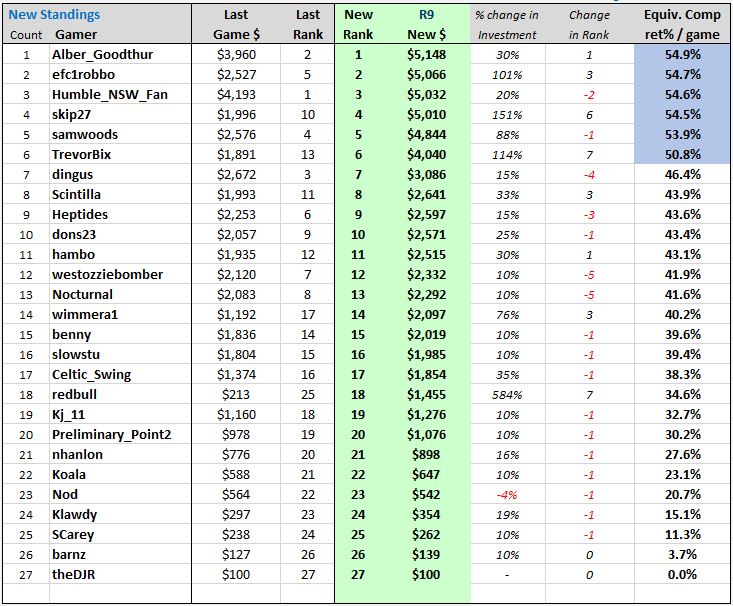 @TrevorBix and @redbull are the biggest climbers in this table, both up 7 places.
From AFL site
BEST
Essendon: Heppell, Langford, Shiel, Hooker, Merrett, McDonald-Tipungwuti
Full calculations for R9 … click on any pic to open slideshow -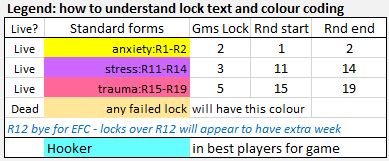 This Week:
Next game v Richmond on Saturday night - dreamtime at G.
Big week for: @barnz @SCarey @Preliminary_Point2 @benny and @Nocturnal who all have a trauma investment due to payout this round.
Ambrose and Redman seems awfully good value at 30%.
There are always players at 30% who I think will be in the team, 35% as well, occasionally 40%. I try to keep the spread of returns reasonable consistent so Gamers know what they are going to get when they take an extended lock.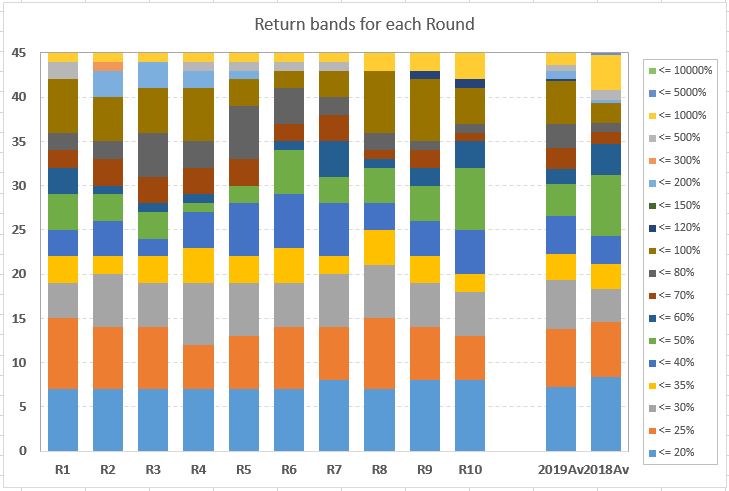 I am trying to encourage a wide spread of strategies and players picked - so there has to be a spread of returns. It would not be much fun if every Gamer made the same pick in a round. In R9 Gamers selected 22 different players which is pretty good I think given amount of injuries in the squad.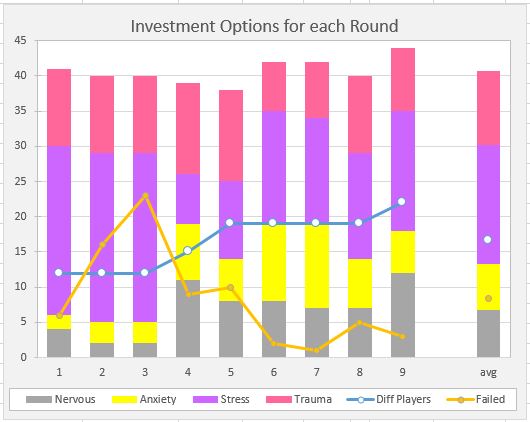 And just because you can never be too rich, too sexy or have too many graphs here is tracking of Gamers v million track - so you can work out where you want to be in next few rounds.
Stress Ambrose and Redman please
Anxiety on McNernan and the remainder nervous on Donnington's boy please chief.
Have to be a bit more specific than that. I don't keep blitz registers for lovechildren, bandwagon ticket holders or whipping boys.