Surprised we haven't heard from @dons23 - I doubt he wants to go forwards with JD now his lock has expired.
Have @skip27 as your username and not get banned from blitz during the season.
Granted, it's a bold strategy… but the returns! WOWEE!
Ok my initial investment of $100 is all on McKenna - Trauma
Can i ask what you do for a living Colonel?
Ah fark, I just got out of my meeting.
Does that mean I'm stuck with Hooker and JD again this week Colonel?
Yes sorry. My life is much easier if all the rules are black and white not open to interpretation.
You got the wrong sport, buddy.
You weren't tempted to take a punt on a Dylan Clarke - Trauma to make life interesting?
Potential Standings if Team plays as named -
Last year's winner @skip27 moves into lead. Biggest climbers are @Slowstu and @Kj_11
Biggest disappointment is probably @Preliminary_Point2 who would have been in lead if Francis plays, but instead falls to 5th.
Don't get banned from Blitz, Don't get banned from Blitz, don't get banned from Blitz.
Cheers for bravery though.
Not yet - I think he needs 2 more good games, or injuries elsewhere, to be a chance for 5 in a row.
You probably could have just stopped there.

I said I would not be in the rankings, so will not be on that table.
My investment lines will be at bottom of the full calculations table when that is posted after the game though.
From AFL site …
BEST
Essendon: Merrett, Hooker, Heppell, Clarke, McKenna, Hurley
Clarke and no Parish is interesting
Boo this man.
And also, der, if he plays three good games in a row he's likely to get two more.
Here are updated standings after R13 glorious victory v Hawthorn. These do include Win Jackpot and Best Player Bonuses.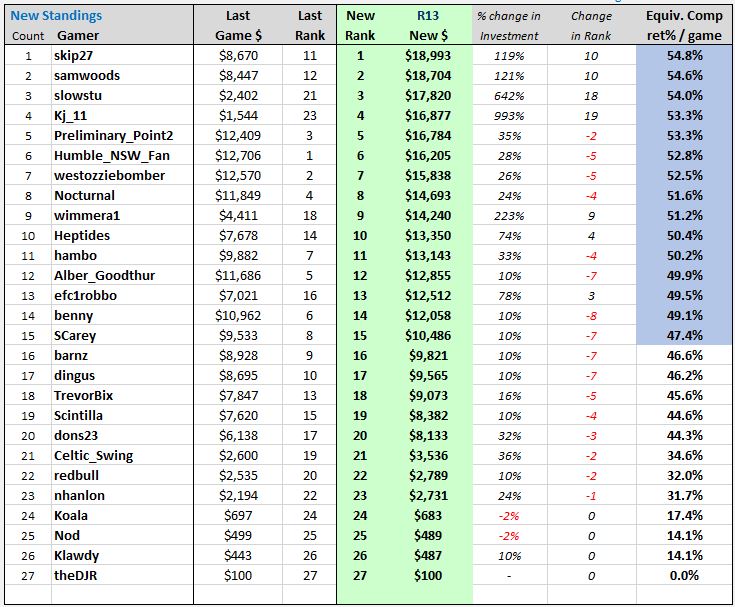 I'm still beating @theDJR!