Here are full calculations for Standings after R13 v Hawthorn.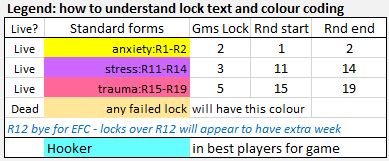 As stated, defending champ @skip27 moves into the lead, other big movers are @Kj_11 @Slowstu @samwoods and @wimmera1
McKenna in best players got my investment off to a flying start.
This week
This week will be tricky. Game is on Thursday and squad might be effectively named at the airport on Wednesday during the day. So don't leave your decisions too late.
About half the Gamers are not locked in for the next round. The Game may be closed early this round on Wednesday when reporters at the airport say who is flying and who is not.
So I will post draft rates early to give Gamers an opportunity to make decisions earlier.
Here are draft Nervous Rates and Bonus Payments for R14 v West Coast.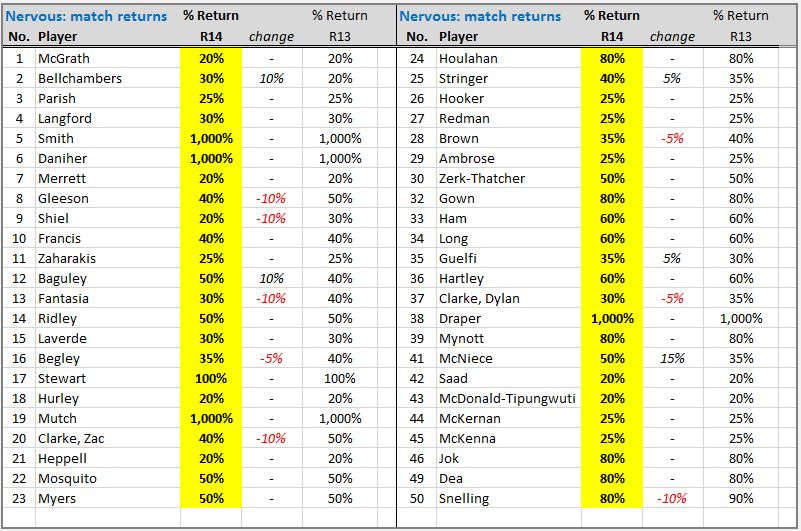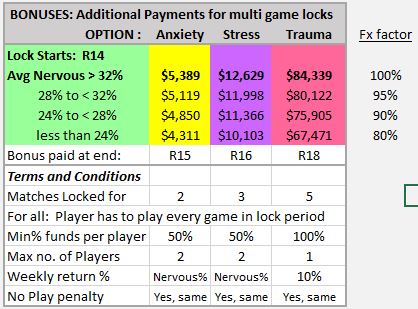 This is just to allow you to do early planning. The Final Rates and the Game will be actually be open for investment changes on Tuesday evening after Club's injury report.
Anxiety Parish and McKenna
I think I'm back in?! if so, stress Parish and McKenna please!
OK - game open. Injury report posted but not much additional information.
Here are the final Nervous Rates and Bonus Payments for R14 v West Coast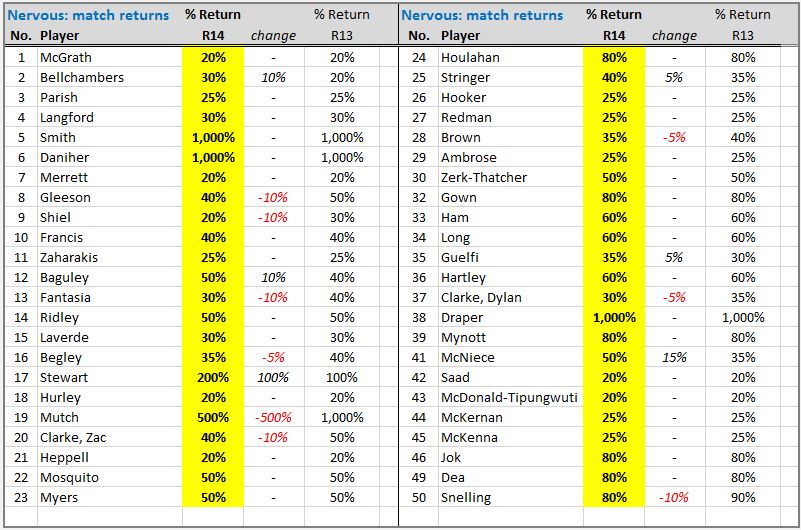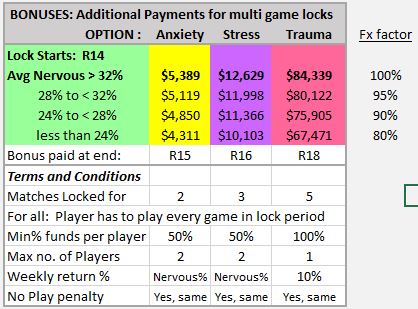 I suggest you don't delay making decisions, there will be reporters at the airport tomorrow seeing if Jake gets on board flight.
Also could @Preliminary_Point2 and @Koala confirm their decisions, now that I can accept them.
And yes Koala you are correct - your lock has expired and you can make new decisions for this round.
Am I still on a stress lock this week?
Yes, you get paid your stress bonus if McGrath plays this week.
Can I nervous Tbell, Fanta, LAV and Guelfi.
25% of available funds on each
I'm assuming I can nervous 4?
Thanks, wasn't sure if I had to pick new locks this or next week.
Yes, you can Nervous as many as you like. The negative is the non-playing penalties get too big if you spread your funds too thin.
Confirmed I'll go with earlier selection
I'm locked in now but will keep it in mind for next week

Anxiety Fantasia and Smack
Deserving of the title anxiety.
am i back in? if so please
stress tippa 50%
stress McKernan 50%
Tricky one this week with the trip to Perth, the short turnaround and the Wednesday selections two weeks in a row.
Can I stress Langford and Fantasia please.