Panic Dollars returns. Last year several Gamers were able to convert their starting $100 into over $1,000,000 by the end of the season. It was an exciting finish with @hambo coming through to win after being 13th with 8 matches to go.
Panic Dollars is a game based around Team selection. You invest in a particular player(s), if your players get selected, your investment grows, if your players don't play you lose part of your money. You can swap players between games, or choose to lock in players for longer for bigger returns. In this game the more risky your strategy, the bigger your potential returns.
The game will most suit Gamers who like to take an interested in all the players on the list and try to understand the match committee's selection strategies. This will help in working out the likelihood of each player being selected in the next match or matches.
A number of Gamers said they wished they got involved from the start, so don't let that happen to you this year. AFLX is not included. The first Panic Dollars game for 2018 is JLT1 on 24/2.
All you have to do at this point is register your interest that you want to play in the comments below.
Panic Dollars is an investment game. All Gamers are given $100 when they start. Gamers invest all or part of their funds in a player or players. If the player(s) you select play the next game, you get a return, but if they don't play you get a cost penalty.
There are a few different investment options as you can lock your investment in for multiple weeks. You get a bonus payment if your player plays all the games during the lock period.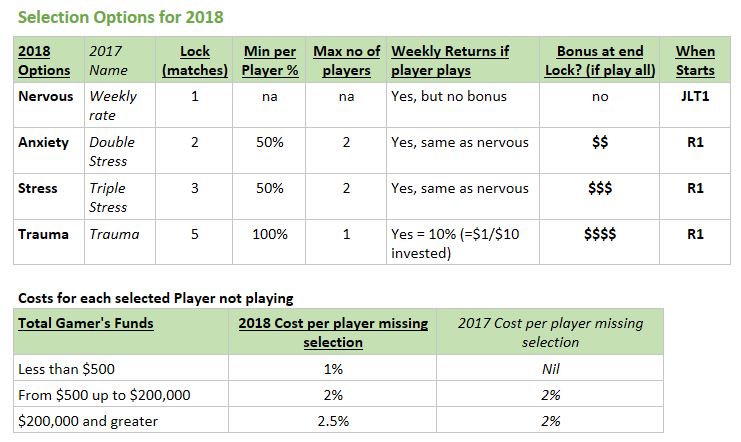 Investment Options: As shown in the table there are 4 Investment Options - Nervous, Anxiety, Stress and Trauma - depending on how long you want to lock in your investment in a particular player. These are similar to options last year, but the names have been changed. Only Nervous will be available during the JLT series, the other options start in AFL Round 1.
Trauma option is a bit different to last year. This year Trauma will give a weekly return of a flat 1% for each week the selected player does play. Last year Trauma did not give any weekly return, only a bonus payment.
Bonus Rates: I will announce the bonus rates payments before round 1. The bonus payment amounts will not be the same, you get paid more for the longer you lock in your player(s). Also the bonus payments will increase significantly through the year. Bonuses payments keep the game interesting as they allows Gamers who are a long way behind to catch up to the leaders.
Edit: Bonus payments have been announced, see the end of this post.
Penalty Costs: The penalty cost for your selected player not playing is also shown in the table above. This is slightly higher than last year and there is no free period until you get over $500 in funds. But there are no transaction costs this year so that will make it a bit simpler.
In a match week
I usually post the rates and bonuses for that week on Tuesday after Justin Crow releases his unjury report.
Gamers are free to swap their investments till the team is actually announced by the Club.
If in any week the club indicates that a player will certainly play in the next game, this will close off any new investments in that player.
An example may help. These are the rates for the first JLT game …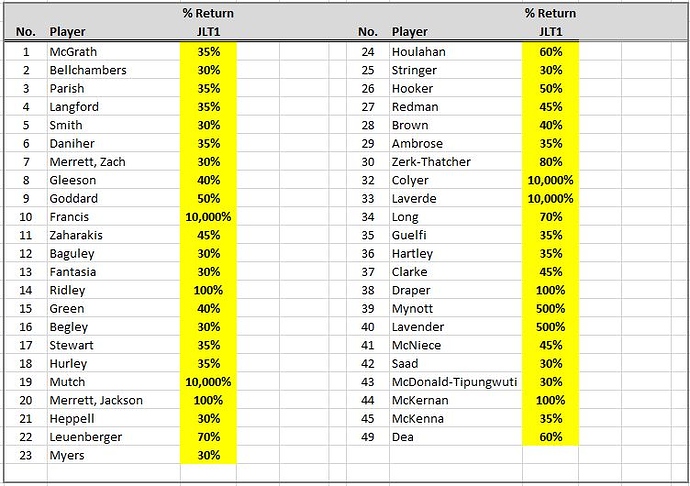 You have $100 to invest, you can spread this across as many players as you want. Although the costs for non-selection should discourage you from spreading across too many players.
Say you invest $25 in each of Heppel, Jerret, Hooker and Long. Then Heppel and Jerret play, but Hooker and Long do not.
Your position will be …
Heppel: $25 x (1+30%) = $32.50
Jerret: $25 x (1+100%) = $50.00
Hooker: $25 - $100 x 1% = $24
Long: $25 - $100 x 1% = $24
Update: Bonus Payments for Lock options
These start from Round 1.
Anxiety option is a 2 match lock - each player lock for this option locks up 50% of your funds, so you can only do this for 2 players max. If your player actually plays you also get the weekly nervous return payments each match.
Stress option is a 3 match lock - each player lock for this option locks up 50% of your funds, so you can only do this for 2 players max. If your player actually plays you also get the weekly nervous return payments each match
Trauma option is a 5 match lock - a player lock for this option locks up 100% of your funds, so you can only do this for 1 player. If your player actually plays you only get a flat 10% weekly return payment each match.
If your player plays all the games in the lock period you get the following bonus payments at the end of the period.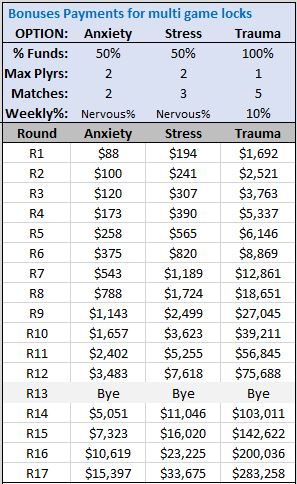 Bonus payments announced to date
You get the payment shown when you start the lock, not when it ends. For example a successful Trauma lock starting from round 1 will get you $1,692 at the end of round 5 (not $7,409).
For Anxiety and Stress options, you are locking up your funds into 1 or 2 players. You do not lock the Nervous weekly return rate - this rate still changes week to week for that player.
For all lock options if your player does not play, there is the same cost penalty as for the Nervous/weekly players. Your funds remain locked up for the full period, even if the lock fails in the first week.
Best Players' Bonus (starts R9)
This will still start this week R9, based on AFL/EFC match report named best players.
However, I need to change the amount paid. I previously said it would be the greater of:
Each investment in a "best player" for that round will get a bonus payment equal to:
Total value all Panic Dollars investments x 0.5% x (25% + 75% x (Rank - 1) / (Total no of Gamers - 1)).
This will increase through the year, as the total of all invested funds grows.
Rank refers to the Gamer's Rank at the start of that round. The formula will give Gamers at the bottom of the rankings a larger best players bonus payment than those Gamers higher up the rankings.
Win Jackpot (starts R14, first match after the Bye)
Win Jackpot will be paid in any match that EFC wins from R14 on. The Win Jackpot will not be paid for a loss or a draw.
Jackpot: 20% of Nervous rate for that player in a winning week. So a player with a 25% Nervous rate will pay at 25% x (100% + 20%) = 30% for that week.
Eligibility: Gamers / players / options using Nervous rates for that week. That is Nervous, Anxiety and Stress Options. Not Eligible - Trauma option.