Oh ■■■■, yes that game. I thought I was going to stroke out. Legitimately.
Will never forget that 2004 V St Kilda game, St Kilda player ran full stride at Hird who put his arms out to defend himself and the umpire paid a free against him.
Its the first time Ive seen all of Level 1 and 2 on the wing simultaneously explode at the umpires.
I feel like there needs to be a category for teams. Every time, as old as the competition itself, we've been dicked by the umpires against the Pies and the Swans. Every. ■■■■■■■. Time.
@sheeds mentioning Richmond r3 1981 is a gem. IIRC Glenn James got them over the line after we led by nearly 5 goals.
Another one was Anzac Day 1996, something like 18 - 3 after half time.
Don't think there's been such universal rage like Anzac Day 2019 though.
YOU are correct, I was ashamed of how my anger took hold of me that day but then I remembered there were people around me carrying on even more rabid.
Indeed, I recall having a grand old time with a father/son Norf pair in front of us all day carrying on.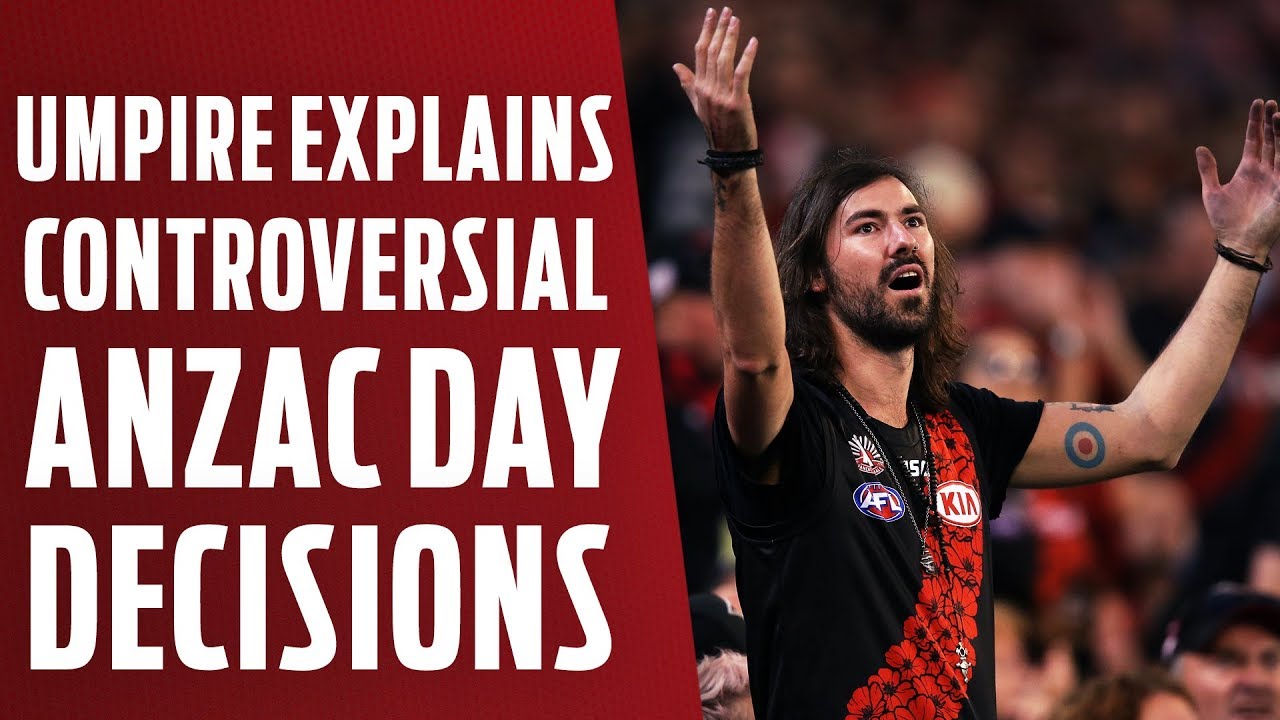 The fact that the umpiring was so bad that someone had to get on the radio and defend these decisions makes this the winner
Yep, I can't remember exactly which game it was but there was a Sydney in Sydney game that was an absolute Pannell/Nicholls special (can't remember who).
Can't remember if that was the one where Stanton was destroyed twice late in the game for no free.
I can't even remember it that well but I just remember it was the worst I've ever seen.
Also last ANZAC day with those calls were the worst of all time. Never seen an umpiring group legitimately lose control of a game of football.
Collingwood 2nd match 2018 was worse.
lol. Good memory. I just went and looked this one up on the hard drive. Specifically remember it now. Piece of ■■■■ deliberate against Heppell and a chopping the arms against Hibberd bang bang with 3 mins to go, we lose.
Can't recall the year but a Sunday twighlight game at Etihad vs Port was downright cheating. It was bad enough previously, but then I think Jetta ran down a bloke who'd had three bounces , ump called play on/no prior, loose ball falls for Port to goal. I actually think our players checked out after that. And I left at the end contemplating murder.
This thread is making me laugh TBH.
Every game we have lost has been because of bad umpiring decisions.
North 2014 Elim Final had it's moments.
Thomas diving in the last qtr.
Anzac Day 2019 was so blatantly horrible
There'd be about 6 games from this year that would be contenders, but if I try and work this all out I'll probably have an aneurysm.
Sydney 2010 was absolute match fixing
2 different set of rules out there
Arm wrestle all game and they pull that 100m penalty against Dempsey after he wasn't even tackled late in the 4th
1982 Rnd 11 vs Geelong at Kardinia Park. We dominated all day but only pulled away in Q4 due to one of the most lop-sided free kicks you would see. @Humbert_Humbert has posted frees went 44-15 Geelong's way that day.
1996 Anzac Day vs Collingwood
1993 vs Hawthorn at Waverley - I recall Sheedy going down the race at half time and eyeballing the umps whilst giving them a big smile at the same time. Might be the game where he started talking about Martians. umpiring was better after half time.
2019 Anzac Day vs Collingwood
2020 vs GWS at Metricon (last night)
As I recall others, I'll update my list.
GWS 2016 where 14,000 people going ape at the umpires sounded like 100,000
I had forgotten the anger of that day.