They are pretty grand, i put away a celebratory one post GWS win. Don't take this away from us Maccas
How has @mcdav not contributed to one of these threads yet?
PS - games don't start for another two days nerd
I think he's afraid someone will beat him to the punch. I'd say that's unlikely
Speaking of which what happened to Thursday night footy this year?
Hopefully it's one of those important AFL initiatives which they have now forgotten about. Like the deliberate rushed behind rule, games in NZ, the sub, protecting the head etc etc
The Grand Mac just feels like it's more bread than more of anything else.
Chicken Mac though. Helloooooo nurse.
Don't stress Thursday night footy is back in a few weeks when the bye rounds kick in. So rather than play 9 games over 3 days the amazing organisation that is the AFL decide that playing 6 games over 4 days works better.
We play the Eagles in Perth on a Thursday coming off our bye.
@barnz holy ■■■■!! MIX AND MATCH NORMAL AND HOT N SPICY NUGGS
Did I read correctly earlier today they tried to blame Carlton getting 4 Friday night games on the fact Easter came early?
What the hell?!
2 METER PETER is no longer listed in GC injury report.
insert its happening gif here
I've been waiting 11 ■■■■■■■ weeks thats half a ■■■■■■■ season for this. Dont you do this to me GC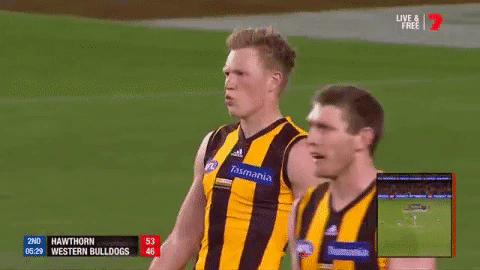 2 METER PETER withdrawals has drawn me to all this fast food.
bet you liked when sicily was giving it to joe!
/s