Theres all of about 3 games this week.
As for tonight, Hey @brem06 guess what?
GEEEELONG
SUPER SUPER TOM
BLICAVS IS TALL AND ATHLETIC
@scotty21 Waaaaaaaaay ahead of you mate. It's Scotland v England in the Euros tonight, and I'm already drinking. Who gives a rats left testicle if Blicavs is tall (he's not 2MP tall) and athletic (not so much anymore).
Because…
We've got McGinn, Super John McGinn
I just don't think you understand
He's Steve Clarke's man,
He's better than Zidane
We've got super John McGinn.
Yes sir, I can boogie!
#tennents #buckfast #hashtagsonblitzisthenewblack #blitzadsaresmallandpathetic
Who's playing?
AFL app says tigers eagles, but that was last week. Are they playing again?
Tall & Athletic against the Western Chuckers
Even the best RB/LB in football in Robbo isn't going to save you from Kane, Sancho, Rashford and Sterling going balls deep.
Has either Geelong or Richmond played every ■■■■■■■ Friday this year?
It's getting reaaaaaaaaaaally boring.
Probably

But just for the hell of it, Scotland 1-0.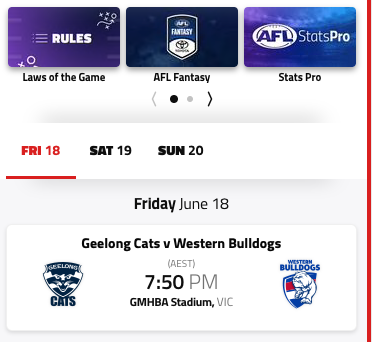 If I had to tip a winner it would be failscray, but geelong ain't playing bad footy atm either
SUPER TOM
SUPER, SUPER TOM
SUPER TOMMY HAWKINS
GEEEEEEELONG
GEEEEEEELONG
Wow Geelong really cocked their song up.