ANNOUNCE MORE THURSDAY GAMES
HOW MANY COCKTAILS SCOTTY DRINK?
Depends if my mates free friday again
ANNOUNCE STEPHEN TINGAY VS MARK ZANOTTI FOR THE TRAVIS JOHNSTONE CUP
Traffic jams to the ski fields if Melbourne get dicked again.
I always get Zanotti confused with John Gastev, who is the least likely bloke to have ever had a career in sport.
Edit: I mean the bloke looks like one of those history channel reconstructions of partial prehistoric remains found in a field somewhere near Bristol: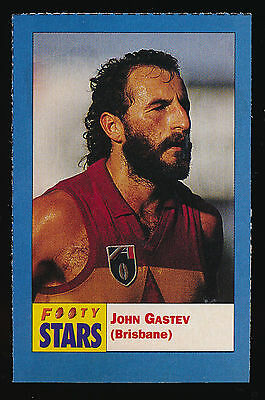 Tonight is your traditional TOP OF THE TABLE, 8 POINT GAME, MINI FINAL.
Boy oh boy wowee.
I associate the mini final with sheeds trying to inspire a 5-8 ranked Dons side v someone ranked 9-12
Thursday night footy is actually great. Clock off from work, make some ■■■■■■ dinner that you only half eat because its putrid, down a couple of drinks and watch some footy which is of a standard you know essendon will probably never achieve, feel ■■■■ about life and then remember its not even the actual end of the week yet and you have to somehow muster up the energy and will to wake up on Friday morning to do it all again.
Of course! But I would be a lot better if Jay Neagle hadnt played on against the Cats a decade ago.
Thanks for that. Ruined my Thursday.
Spoiler - he would have hit the post with his set shot.
Annual Pink Lady match tonight, for breast cancer. Another great cause to get behind.
Ump bounces significantly more one way than the other, one player stands still under the ball, the other player runs into him, free kick to the player who ran into the stationary one. Ridiculous rule.
Joe was always going to miss worst set shot in the league
Good play by Joe to tackle Brayshaw and draw a HTB decision, BL play on, and Hipwood goals.
At the other end Fritsch is run down as he was running into goal, another outstanding tackle.
Joe gets a mark out the back after May was caught out of position. His kick for goal is a shocker, a real helicopter effort.
McInnerney outmarks Jackson, but his kick for goal is no better than Joe's.
Spargo finds Sideshow all alone, deep in the pocket. His shot drifts across the face.
Sideshow marks on the 50. His long shot misses to the near side.