Looking for a link to the teams for this one.
Ask Mr Richardson, his passion is the Mens VFL team.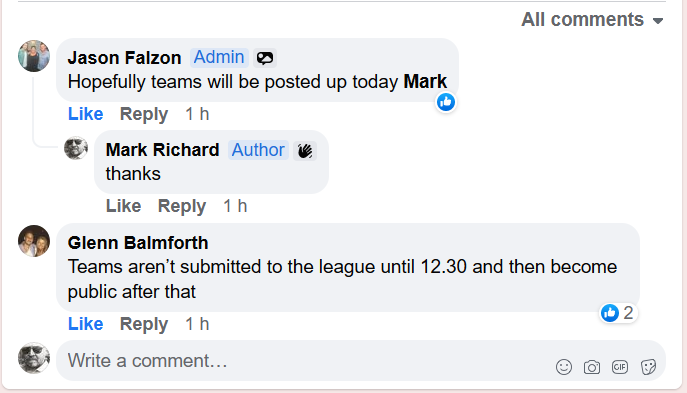 Just realised that Ayres is no longer coach. He was there a long time, 14 years.
Elsewhere, after Footscray caught up 26 minutes into the final quarter, Norf goal in the final minute to win 13.7.85 to 10.19.79
Ha ha, Dogs.
Win, and we jump past at least them.
FB
[31] Zach Reid, [77] Joel Fitzgerald, [38] Cody Brand
HB
[41] Cian McBride, [36] Garrett McDonagh, [28] Alastair Lord
C
[56] Will Golds, [70] Cooper Anderson, [32] Josh Eyre
HF
[23] Harrison Jones, [33] Brayden Ham, [26] Kaine Baldwin
FF
[40] Tex Wanganeen, [10] Aaron Francis, [43] Anthony McDonald-Tipungwuti
FOL
[24] Nick Bryan, [53] Sam Conforti, [60] Joe Atley
IC
[62] Maclyn Hallows, [75] Max Simpson, [63] Dylan Landt, [68] Josh Iacobaccio, [49] Tom Hird, [76] Jake Sutton, [71] Lachlan Godden
EMG
[58] Ben Jolley, [61] Jacob Brown, Lockie Rayner
It feels like just about every Essendon AFL listed player is a tall
This could almost be a AFL forward line just swap out Ham for Wright
Great to see Ham in his rightful Essendon position…CHF. Although he might be a bit tall
Fun facts:
We have lost the last 9 VFL games
Sit 19th out of 21 teams
We are the worst ranked AFL affiliated team in the comp, by some margin
In the top 8, 6 are AFL affiliated teams, other 3 AFL affiliated teams sit 10-12th
Imagine how much better the development of our young players would be in a better team.
Hopefully Stants can start to turn things around.
We seemed to have abandoned the VFL side quite a few years ago. Last year was very low in terms of doing anything. Even this year it felt like we were late (felt - I have no idea if we were) in finalising players and coaches and that has put us behind in game plan and execution.
I think Stants has the players putting in the effort and some structure/game plan exists but they are coming from a very long way back.
makes it hard for guys like tex and Baldwin to develop in beltings each week
Round 3 was the only real belting per se, the previous week we almost stole the game from Casey.
Really need to get some more mids into the list the next draft. A midfield with no listed AFL players is pretty poor
The VFL is really impacted by AFL list unavailability. Especially in the midfield.
Agaisnt Casey we had Waterman, Atley and Hobbs in the middle and we nearly knocked off one of the best VFL teams on their turf.
Last week those 3 didnt play and we got killed in the middle.
Atley back this week and I'd expect a strong performance with the players that have been named, especially that forward line!
Did Voss get suspended? If so, how many weeks did he get, please?