But it was a fine mark and excellent kick. Well worth the wait in my opinion.
We especially miss Hooker and Stringer. McKenna is not a forward and this indulgence should end. We do not have the depth that we thought we had at the start of the season.
StKilda are a good side.
Posted this in another thread but its so true!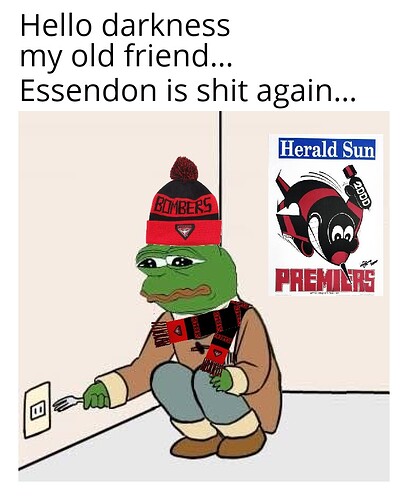 Credit Redirecting...
I cant see us winning a quarter for the rest of the year. bring on pick 3 (do we have a first rounder?)
The only positive about this season is because of covid, and it being interstate I haven't had to watch the team live and at the actual game
The culture of this club is rotten to the core
So many players are just not up to it. Seeing worsfold smiling after the game makes my blood boil. We are hurting and he is smiling. Just fk off
And I thought we could win this match…
We're still playing ring-a-rosie with the handballs, until we get dispossessed.
Hardly a single lead was given in the forward line, which led to long bombs and dispossession.
Too many kicks were woefully misdirected. For all their good work, Merrett and McGrath circle-jerk with handballs and don't deliver enough accurate straight passes by foot — unlike Walla (who was closed down for much of the game).
We're soft as butter — we didn't make St Kilda earn their possessions.
How can you close down the opposition if you let them run free ? Sometimes, one-on-one accountable footy is required.
Time to sack McNernan and play Phillips instead.
They won the 3rd term today.
Bit of material to work with
I didn't see or hear anything of it today. I saw the scores and that we lost.
Thought I would check Blitz for the verdict on how bad it was.
Quick check of the threads up the top:
We are sh/t thread
Dodoro thread
Rutten thread
Xavier Campbell thread
2020 draft thread
List rebuild thread
Not much improvement today at all, I really can't see how this club can lure more members or lure members back after gutless performances like this
. I will sign up again but I'm a dumb farking idiot who just loves to waste coin.
Managed to watch a quarter and a half.
Never seen so many aimless kicks down the line and I50. Intercept after intercept without a fkn contest.
Our 15/20m kicking was even worse, never finding a target. Usually when going wide and over cooking it or just being downright wayward.
Things seemed to pick up after this however the game was done by then.
Our season is now done but I know for a fact that even after this I will still be optimistic about a fully fit list at the start of next season and us actually being competitive.
It was so bad you wanted to look away but couldn't. Just an absolute train wreck. The only reason we didn't lose by more was because stkilda didn't want up to beat us by more
Its not fun to watch them play, its not entertainment.
We have no footy IQ, no skills, no gameplan, 0 athletecism, 0 structure, players playing out of position, no one setting up or manning up, noone even giving a ■■■■. 0 care in the world!!! This is seriously the worst football club to follow right now. the ladder doesnt translate to where we are, we should be LAST.
i can't think of any saints players that really stood out that beat us, i really didn't even ontice the saints at all
the complete lack of anything resembling football by essendon players was just so front and square the saints may as well not have been there, how bad we are is so ■■■■■■■ show stealing
We used to be exciting even if we weren't particularly good.
I'm the opposite. I haven't bothered to watch a single game of AFL since the Collingwood game. Just totally uninterested. This afternoon was spent in a Zoom catch-up with friends, drinking gin and playing trivia games. Just ordered Thai from my favourite place and will watch a movie with the family in about an hour. Been a great day.
I checked the score during the last quarter, laughed, shrugged, and went back to the zoom call.
I actually resent them a bit for me losing my love of the game. It used to burn me when we lost, but not anymore.
Why bother complaining, we were never going to be in this match.
We dont have a back up team if most of our best players are either injured or 'managed'.
That's all I took out of this match.
Get this ■■■■ out the door now