After another incredible pre-season, its time capsule time
Harley Reid to go pick 1. We are a genuine chance
It's pretty hard to trade for pick 1 after you've won the flag but I reckon we can do it
Not going to happen we will win enough games to to not get pick one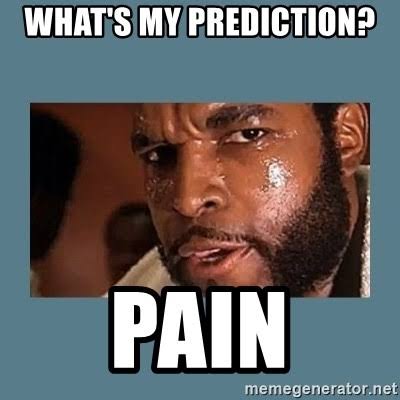 Even if we get reid, he'll have a mcgrath like season first year, then we'll bemoan not taking whoever was a few picks later. kinda like parish, when we should have taken oliver
I'm waiting till after Sunday's first offical practice game before I panic*.
*I don't expect to panic. Decent chance I will not be convinced we will win back-to-back premierships, but not panic.
EFC finishing position: 12th
Crichton: Mcgrath
Biggest EFC surprise: Baldwin becoming a reliable defender
Biggest EFC disappointment: Dodoro maintains his job
Brownlow: Bont
Premier: Brisbane
Rising Star: Wardlaw
Spoon: Hawthorn
My predictions:
Premier: Farkcarlton
Norm smith: Saad
Brownlow: tie between Cripps and De Goey
Coleman: McKay
Rising star: Hollands
Spoon: Hawks
Ess finish 17th and pick up the midget who struggles to get to AFL standard
My October holiday - one way ticket to a Castaway type island.
There's no way we'll out tank Hawthorn. They set themselves up perfectly at the trade table last year
Limp Bizkit will be an ironic thing for a week or so in August for some unfathomable reason.
I think we can do it ivan - even without trying.
No, ivan is right. We won't even get bottoming out right.
Sorry Jordan Lewis, Fox Sports have already gone to print, your opinion on all matters football has gone down the gurgular just like Mick Malthouse.
My prediction is that we occasionally get close to playing AFL standard football and that Dodoro is made coach, president and CEO.
We're so ■■■■■■, the nerds at MIT, can't invent a machine to unfuck us.
Premier: Melbourne
Runner up: Brisbane
Brownlow: Oliver
Coleman: Joe Dan
Rising Star: Ashcroft
Wooden Spoon: Essendon.
Crichton: Dylan Shiel
Big Riser: Port Adelaide(top 4)
Big Slider: Collingwood(bottom 6)
We'll end up with pick 5 in the draft. Unfortunately there'll be 4 stand outs and it'll be a lottery after that.