Dons outline coaching succession plan
Sep 17, 2019 1:00PM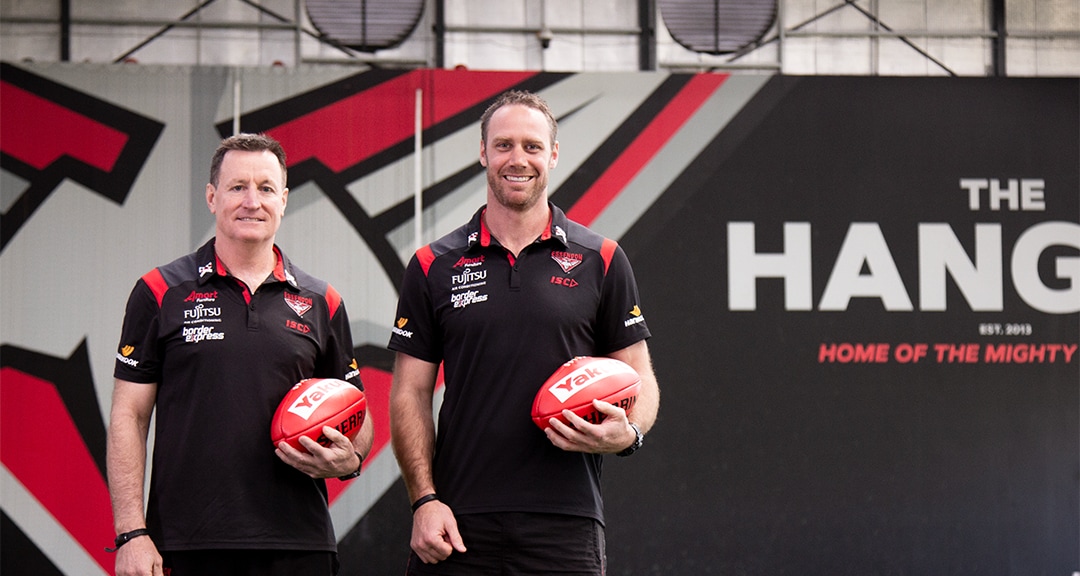 Ben Rutten (right) will be taking over as senior coach from John Worsfold at the end of 2021.
The club is in a sound position, the future is bright, and I feel really comfortable with what Ben will be able to do to take the club forward."
John Worsfold
Related
Ben Rutten has today been named as John Worsfold's successor when he hands over the reins to the senior coaching position at the end of 2020.
Worsfold will continue to lead the Bombers next season, with Rutten serving as senior assistant coach in 2020 as part of the 12-month transition plan, before assuming the top job for 2021 on a three-year contract.
Following a recommendation from football director Sean Wellman and chief executive officer Xavier Campbell, the board formally ratified the appointment yesterday.
Worsfold arrived at the Bombers at the end of 2015 after a stellar stint at West Coast, where he won premierships as both a player (1992, '94) and senior coach (2006) across 22 years, becoming the Eagles' longest-serving coach in their history.
Worsfold said the time would be right to hand over responsibilities after a total of five years in the senior role by the end of 2020.
"The time is now right for me to transition from the role of senior coach at Essendon and I go into the next 12 months really looking forward to helping the club move into its next phase," Worsfold said.
"Before I was appointed to the role in 2016, I was watching on from afar as to what was happening with the Essendon players. The game has personally given me so much enjoyment throughout my career, and I wanted to pay that back to these players who deserved it.
"Conversations progressed and then the opportunity came about to lead this group, but I had to make sure I could achieve our goal of the players simply enjoying the game again – my No.1 focus was assisting in stabilising this club. After the work we've collectively done, this team now has a really strong window to get themselves in a position to challenge for success.
"By the end of the next year, it will be five seasons leading this group, which has been the right period to embed strong foundations in our program.
"Now, the next twelve months will mean we will have that stability for a seamless transition between Ben and I. The club is in a sound position, the future is bright, and I feel really comfortable with what Ben will be able to do to take the club forward."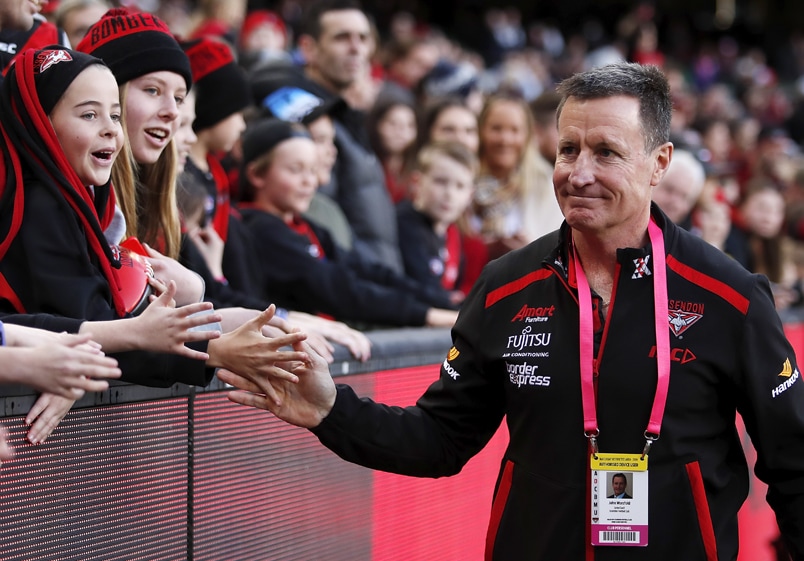 The 2020 season will be John Worsfold's last as senior coach of the Bombers (Image: AFL Photos)
Rutten joined the Bombers as assistant coach at the end of 2018. After a 229-game career playing for the Adelaide Crows which included an All-Australian selection in 2005, Rutten then joined Richmond at the end of 2014 as its defence coach.
Rutten said he was grateful for the opportunity to serve as senior assistant coach under the widely respected Worsfold ahead of the transition.
"Since arriving at the club, I've been able to learn and feed off John's broad knowledge of the game which has contributed in my growth as a coach. I am indebted to the club for the opportunity, but also 'Woosh' too for his investment and belief in me," Rutten said.
"There is a clear strategy in place for entering our next phase as a football program. With this transition plan, I'll be able to continue to work closely with the players while building on my understanding of the broader role and there is no better person to learn from than Woosh.
"While I am excited by the opportunity ahead, going into next season having Woosh here to steer the ship will be incredibly important and I'll certainly be utilising all opportunities to be exposed to various aspects of the role.
"I want to thank the board and the club for the opportunity to lead this football club down the track, but right now our immediate focus will be on ensuring we build on the strong foundations in this pre-season for a successful 2020 campaign."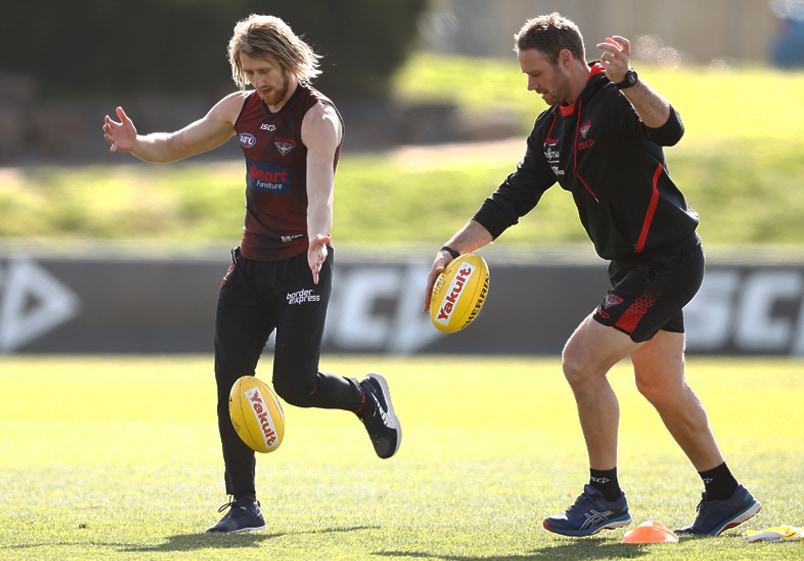 Ben Rutten says he has learnt a lot from John Worsfold at The Hangar. (Image: AFL Photos)
President Lindsay Tanner said it was an important transition for the football club.
"It is our responsibility as a board to consider the short, medium and long-term, and we believe this succession format will give the club an opportunity to enter this next phase seamlessly," Tanner said.
"It is responsible management to consider all options for the future. Throughout the year, and even as far back as last year, John and the club were having lengthy discussions about his future as senior coach beyond the end of his current contract. Without doubt, our focus has always been on best positioning the club to achieve success.
"True to his nature, John was honest and upfront about the position he was in with his family located back in his hometown of Perth. He was uncertain about his future in Melbourne beyond 2020 and, naturally, has the club's full support to put his family first.
"With ongoing discussions with John, we identified the opportunity to establish a succession plan, knowing we already had an outstanding internal candidate in Ben.
"This structure plays to the strengths of both individuals. Ben is the right person to lead this club beyond 2020 and this support and mentoring structure with John is an ideal preparation and grounding for Ben.
"John has made an enormous contribution to Essendon since arriving in 2015, and we are indebted to him for his outstanding service to not only our football program, but our football club more broadly. He will continue to have an important role to play in setting us up for our next phase.
"Ben has made an immediate impression on the club since his arrival with his professionalism, understanding of the game and ability to form strong relationships. Importantly too, Ben will have an incredible mentor in John for the next 12-month period, and he will be better for John's dedication, experience and expertise.
"We believe we are in an exciting period at the club, with the development of the second phase of our facility about to commence, truly cementing The Hangar as a world-class facility. We have a highly driven playing group, with a blend of experience and youth, who are all united in their pursuit of achieving the ultimate success together."