Sorry about the delay on this one, its been a big year outside of footy so I ended up having to play a lot of catch up in the back end of the year as personal circumstances got in the way of me keeping up with things between March and May.
To be honest i actually was fairly close to not doing a thread this year, for a couple of reasons but mainly due to originally expecting that it was unlikely we would pick in the range where a lot of these guys fall. But with our success during trade period that turned that on its head. As it turns out most of our picks are probably right around the range you would consider a lot of these guys. As a result im not going to bother with draft range this year, as pretty much all of these guys fall into that 45-Rookie range.
Its also worth mentioning when my list for this year took shape at the beginning of the year, guys like Tyrone Hayes and Irving Mosquito ended up in multicultural academies, so the diamonds are coming from a bit rougher places this year.
Anyway, Lets get on with it.
Video where possible, picks is there is nothing I can find
Ian Milera, 173cms 68kgs, Glenelg SANFL, Small Forward
Younger brother of Terry, who played for St Kilda, Ian is an extremely lively small forward who had a break out year for Glenelg in the senior SANFL competition. 31 goals from 18 games in his first year of senior footy was a very impressive result from the kid who had a lot of pressure put on him to fill the hole in a Glenelg side that lost Willie Rioli the year before. His main attributes are pace, and a very good ability to hit targets by foot when moving at pace, its brilliant, nearly but not quite tippa like when you see it. Several bags of 3 or more operating in a forward line that also had his older brother and ex-demon Dom Barry its easy to see how he could work in our forward line. If people remember my scoring system I use, its important to mention that Ian was the highest points scorer from everyone I rated out of the SANFL this year. He is 19 years old which is good and I feel is now ready to make the jump to the big leagues, he is light, but is wiry.
When you couple this skill with 1.8 goals per game, you can see why he is moving onto AFL radars.
AFL comparison: Jeff Garlett
Adam Sambono, 184cm 79kgs, NT Thunder NEAFL (take that with a grain of salt)
Adam Sambono is ■■■■■■■ extraordinary, most of you know the story, from the Daly River and super late to footy, pretty much went from deep bush to being on of the most promising kids in the country in 18 months. I will preface this with the fact that he is the Christian Bock of mid sized forwards, he is rail thin. The Thunder listed him as 79kgs, they must have weighed him dripping wet holding a couple of bags of potatoes, because there is no way he is 80kgs, and for that matter I walked past him at the champs and Im 194cms and he was nearly only a few cms shorter than me.
I know it seems like there is one of these guys every year, the great McCarthy types, the urban legends, of the man from the bush who rocks up from the mist of the red dirt and is so naturally gifted that he immediately dominates. Previous years luminaries such as Waylen Manson, Liam Jurrah and Liam Patrick. But there is something about Sambono that seems different this time.
For starters he has exposed next level form, 32 goals from 11 games with his bigger performances coming against the AFL reserves teams in the comp, Sydney and GCS. In these games he not only proved he could match it with AFL level talent but he could expose them as well. He is a positionless player who can play both tall and small, he has a trampoline in his sock and a jet pack on his ■■■■. The best parallel I can draw on him and have said it earlier on in the year. This guy is the next Adrian McAdam. He has a game which translates to modern footy and while only being in the system for a short time, has benefited from a mountain of work by the Thunder senior team to prep him for AFL footy.
Which ever team this guy goes to, that team just got a lot better.
AFL Comparison: Unique.
Dominic Grant, 189cms 79kgs, Wanderers NTFL, Inside Midfield

Dominic is easily for me the best value, high risk high reward pick in this years crop. Prior to the start of this year he was in my mind a top 15 pick level tallent. AFL Academy member who had produced the year before, I had likened him to a Sam Powell-Pepper type but with much better disposal. But unfortunately injury struck, multiple stress fractures in the feet that required surgery saw his name drop out of pretty much every draft board across the country. With very little information coming out on the specifics to what was both the cause and the region of the fractures (usually spells navicular)
Dominic when he is injury free is a hard at it inside mid who thrives on contested possessions and clearances and has an uncanny ability to get out of trouble with a magnificent blend of strength, will and finesse. When he finds his way out of traffic he is bankable with his disposal. He gets the ball to targets in a position to hurt. Only averaged around 17 possessions a game in 2016 but was extremely efficient and impacted games. The risk is obviously now much has the injuries impacted both his development and his skills. Has he missed to much footy in a crucial development phase? has his speed and agility been impacted by foot instability?
Modern AFL teams tend to let situations like these bake for another year in the system, and I know if undrafted Dom intends to play a season in the SANFL for North Adelaide to show that he is at least back to where he was. But I cant shake the feeling that all that is going to do is make a guy who could be had as a rookie this year. cost a first to second round pick next year in a great draft. I really think given our current situation with no pressure to help the team in 2018. We really should be giving this kid a spot to get his body right, and reap the benefits in 2019.
AFL Comparison: Sam Powell Pepper.
Tere Teio-Yarran, 170cms 75kgs, South Fremantle WAFL Colts, Mid/HF
I cant even find a photo of this kid
Even the most connected of Western Australian blitzers are probably going WTF is this kid??. Tere is a Yule Brooke Clontarf boy who played 7 colts games for South Fremantle this year, averaged 20 possessions per game in those games including a 27 touch game before heading back up to the academy. I have seen scratchy hand held footage of one colts game with this guy in it, but as a few know I have contacts within Clontarf and they are all very high on this kid. As a footballer he is hard as a cats head, super quick and a real leader. (Captained his academy for 2 years) he uses the ball well and puts his body on the line time and time again for his team. All reports suggest that he is the sort of kid who will really flourish in an AFL environment from a footballing stand point. Tere was also part of the flying boomerangs program. He stands as the sort of kid who is probably going to end up in one of the WA AFL Clubs academy programs, but if the reports I get are on point, it might be a good chance to nab him before that happens.
AFL Comparison: Devon Smith
Taryce Stewart 177cms 75kgs Swan Districts WAFL Small Forward
Taryce is a small forward who averaged 2 goals a game in the champs this year from 10 touches. Sure the numbers don't jump of the page. But what intrigues me with him with 19 league games that he played during the year, there was a slight uptick from his champs numbers and actually really consistent across the season. What this says to me after 15 years of watching junior footy. Is this kid plays better when he is surrounded by bigger bodies and better competition. Which says to me, there is big growth opportunity if he gets into an AFL system. What you need to know about Stewart is he defies gravity. If you love a blind turn and shifting of direction so quick that it breaks the matrix then Taryce is your guy. If you were to look up "makes something out of nothing" in the WAFL dictionary, here would be this picture: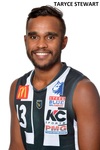 Beautifully balanced and deft with both feet there is something a little Eddie Bettish about Stewart. Doesn't need a lot of it, or daylight to make an impact on a game right when its on a knifes edge.
AFL Comparison: Eddie Betts
Jake Patmore 182cms 77kgs Claremont WAFL, Defender/Midfeilder

For reasons I cant comprehend, Jake projects around our pick in most mock drafts, well I can, he was way overweight at the end of last season, but dropped 10kgs and became a jet during the season. The numbers are staggering. The kid is an absolute ball magnet, and is damn, damn quick. From reports he was a little sore heading into the combine and still clocked a 3.02 20m and 8.42 Agility test. They are not the staggering numbers. These are, after the champs he went back to the Claremont Colts team and had games where he got 38,42 and 49 disposals when they finally pushed him into the midfield. On the benfti testing scale he is the 3rd best junior in WA. Thats largely why I am excited that he is projecting around our pick. I want to temper the hype because I want him to last to our pick. He is a dashing half back/winger who gets an extraordinary amount of the footy. Im remiss to say it around these parts, but, when he is running down the wing, and weaving in and out of traffic evading would be tacklers, there is a hint of Andrew Lovett about him, but kind of like a defender version who does play accountable on his man.
Fun fact, he has kiwi ancestry in him, and his dad played Olympic hockey I'm told.
AFL Comparison: Peter Burgoyne
Honourable Mention
Dom Barry, formally of the Demons who left due to family and cultural reasons has reignited his career with Glenelg this year and was outstanding, he is only 23 so still has plenty of footy ahead of him. Well worth a look, really rated him as a junior.
Anyway, thats it, I know I have left names off, but these are the sorts of guys id like us to take a look at around our picks.