We are back!
After a moving state hiatus in 2019 here is the hype list for 2020. Its been really challenging to find the right angle to do this as the NGA academies have grown over the last few years. It has a practical impact on my bush telegraph network of years gone by as well. A big reason why I used to get info on players was because clubs and families were finding it hard to get any sort of attention for their kids due to the nature of their remoteness. But with the development of the academies, that's become less of a thing. Testament to the design in reality, It's what makes it such a shame that they are being wound back (unless of course you are an expansion club and you get full reign of a particular state or region)
So the tack I decided to take this year, given most of the kids that we would potentially consider at our picks are tied to academies, is to ear mark some lads that will be on the fringe of not being matched if we are aggressive with our bidding to pry them out of their respective academy, Irving Mosquito style and a handful of rank outsiders who will to this point have fallen through the cracks for whatever reason, be it age or location.
Factoring in COVID and the irregularity of games, seasons and even information made this a tougher year to keep tabs than previous. But either way I've managed to knock something together.
Blake Coleman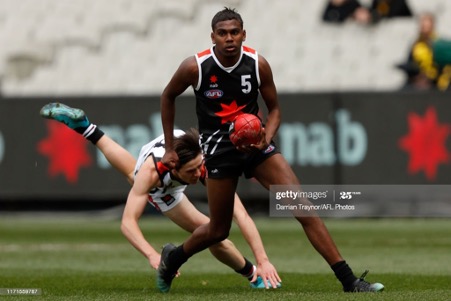 Med FWD/ Wing 180cms 72kgs Morningside QAFL - Brisbane Lions Academy
Blake is the younger brother of Keidean from the Lions, who many will remember we bid on in last years draft, and they share a lot of similar traits. Blake is lightning fast ball carrying line breaker who uses the ball really well. He also has a great leap and very good hands for his size. I had the opportunity to watch him several times first-hand in his bottom age year and one game in particular stood out where he singlehandedly nearly took the Lions academy team over the line against a strong Eastern Rangers team as a bottom ager. In a word you would have to describe him as damaging. He's the sort of player who always makes something happen when he has the ball or even near it for that matter as he's a very willing tackler.
Whether it be breaking lines from a stoppage or making sense out of congestion Blake always finds a way to turn his touches on the ball into opportunities for his team. The next level he will probably start of as a forward who will push up into the midfield as his body develops. There are elements of Nicky Winmar in the way he plays, he can hurt opposition in so many different ways. He will torch any similarly sized opponent in the air and will be far too fast for pretty much everyone. I was disappointed we missed out on his brother last year, we can't let this opportunity pass us up. Keidean has managed to crack the senior team on a premiership contender, and I see Blake being just as good. I'd be trying to secure a second-round pick so we can quickly bid on him at a cost Brisbane can't match.
Isiah Winder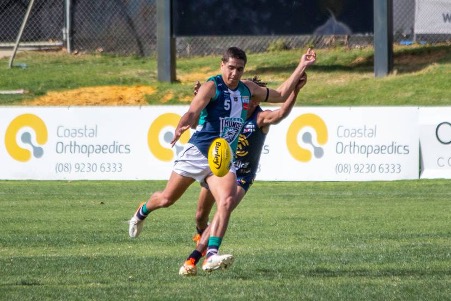 Mid/HF 178cm 79kgs Peel Thunder WA. AFL Academy
With the loss of McKenna and the likelihood of Fantasia going home, Winder was the first player that jumped to my mind. Isiah is an incredibly quick, beautifully balanced, exquisite disposer of the ball. His decision making is also top notch. He knows what his abilities are, and when to use them to the most effective benefit. What I mean is his ability to use what I call his stop-and-go. He knows to use his speed as both a weapon and a decoy. Couple that with his decision making and I'm not surprised he saw senior WAFL action this year and handle himself well. As recently as a couple of weeks ago I would have thought 3rd to 4th round would be where he fell in the draft. But his combine testing was testing was off the charts. Top 5 results in 20 meters, repeat, leap, and beep. You don't often get that, and it will likely see him push into the 2nd round for mine.
People say that his playing style reminds them of Shaun Burgoyne, but he reminds me more of Peter. He has an near AFL ready body now, and even though he's been playing senior WAFL footy up forward I could see him developing as an attacking half back, using his precise foot skills to set up attacking thrusts, or just sticking the ball under his arm and going for it himself. If we manage to flip Raz for a second rounder. I say we use it on Winder. He also has a great work ethic, wherever he lands I can see him playing senior footy quickly, and for a long time.
Nigel Lockyer Jnr
FORWARD 191cm 91kgs – Rovers CAFL – Palmerston NTFL.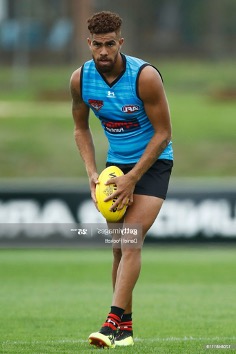 Here me out.
Do I think we got it wrong taking Crauford with our supplemental pick this year? no I don't. The big fella looks really promising, I'm excited to see what a full pre-season with him yields. Do I think we got to see some of what Nig has to offer? To an extent. I feel with him in his time with us last pre-season we essentially got a very talented and raw player to attempt to fill a position of need, as opposed to showcase what he could do if put into a position to play his natural game.
Nigel really took what he learned from his time with us and put to good effect, continuing to work on his body he has kept in really good shape during the COVID period and played great footy for Rovers in the CAFL. He kicked several big bags (28 goals in 8 games 2 bags of 6, 2 of 5) and wining the GF (he and Shaun Edwards being the 2 main guns in that team) and has continued on his good form right into the the NTFL season. Kicking 4 in the season opener including this belter from 50 on the run on his non preferred.
He is a forward with mercurial talent. Think of it like this, if he can slot into an AFL level game, playing in a position that isn't his natural game, and still find it 15 times after a few weeks training with the team. Imagine what he could do with a full preseason, training in his preferred position, with some understanding of the game plan?
I see him all things being even developing into some sort of hybrid between Jake Stringer and Michael O'Lauchlan.
A chat with a mutual acquaintance told me he's under the impression Nigel will head back to Melbourne again in the off season as he has decent AFL interest, more so than last year, and from more than just us. If we were to pick him I could see him as a big body who could slot straight into senior footy.
Please, if we don't draft him and he goes undrafted sign him to a VFL contract @paulcousins
Joel Jeffrey now unavailable thanks to infinite handouts to the Gold Coast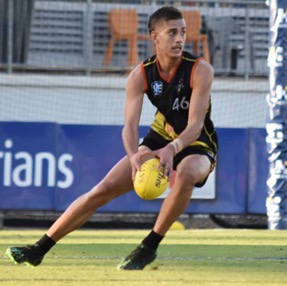 FWD/DEF 192cm 80Kg, Wanderers NFTL, NT Thunder – Gold Coast Academy
Son of the great Russell Jeffrey, Joel is the Jamarra Ugle-Hagen for the budget conscious recruiter. Dynamic key position forward who has electric pace on the lead, a leap that makes up for the few centimetres he lacks (super keen to see his wingspan measurements) and sticky hands. He is equally damaging at the top of a pack as he is at the drop of ball. His clean hands on a lead also translate to clean hands at group level. Which is actually a rare skill to have.
I won't go into too much detail about Joel, as he's currently tracking as a late first round to early second round pick, so the media on him will be vast by the time the draft rolls round. He could slide by virtue of clubs not willing to bid thinking he will slide nicely to the Gold Coasts pick 24. But, if we ended up getting one of our picks in the late teens. Id strongly consider using it on Joel. I don't think the gold coast will be prepared to use their 24 on him and will be considering not picking him at that spot if no one has by that point, thinking he will slot in nicely to their later pick at 35. I say we call that bluff, and either force them to use 24, or wind up with a cracking player. Its win-win.
Ira Jetta
Small Forward, 176cms 84kgs, South Fremantle WAFL Colts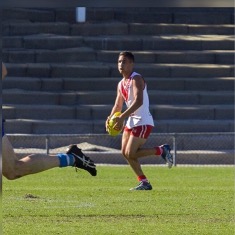 Cousin of Leroy, Neville and Lewis, Ira fills the "he spent most of the year injured and its hurt his stock, could a cheap pick up late" roll in this years list. He's a small forward. Usual fair, great goal sense, clean hands, capable of kicking the miraculous, excellent turn of speed. Had he been able to get on the park consistently he would probably have played senior football. Last year he turned in some impressive appearances pushing up into the midfield, having games with high 20's low 30's possessions as a bottom ager. Always a good sign for future development. He was added to the AFL Academy but just never seemed to get going this year. But if a team took a likeing to him last year I could see them pulling the trigger on him late to get him into their system.
If he goes undrafted this year he will go back to south and I could see him pushing right up the draft order in 2021.
Jesiah Minor, Pupunya FC, Central Australia
to come.
Matthew Kantilla Tiwi Bombers NTFL
to come.
Fitrzroy Greenwool - Kowanyama, Gulf of Carpentaria, former GCS academy
To come
I will add videos as they start appearing closer to the draft. Feel free to ask me anything about any other lad who may have caught your eye in the off season. As usual there are other prospects that I like but I tend to focus on a couple of favourites, players who I think we might get, and then a couple of remote fellas who could potentially have what it takes, if put into the system.