Almost a 200 run win in a T20.
That's a fkn flogging and a half.
Riveting stuff, isn't it.
Jimmy Peirson flying over to replace Josh Inglis as the back up keeper after the first Ashes Test. Inglis is heading home for the birth of his child apparently but he really just doesn't want to face off against his home country
Peirson has earned that call up. Good on him.
Hope Carey plays well enough that he just gets to kick back and watch some cricket, but he deserves to be in the mix for a baggy green.
Sean Abbott with a 34 ball hundred for Surrey!
Sean Abbott stuns Kent - and himself - with 34-ball hundred
Allrounder eclipses previous best by 69 runs as Surrey run out comfortable winners
26-May-2023 • 3 hrs ago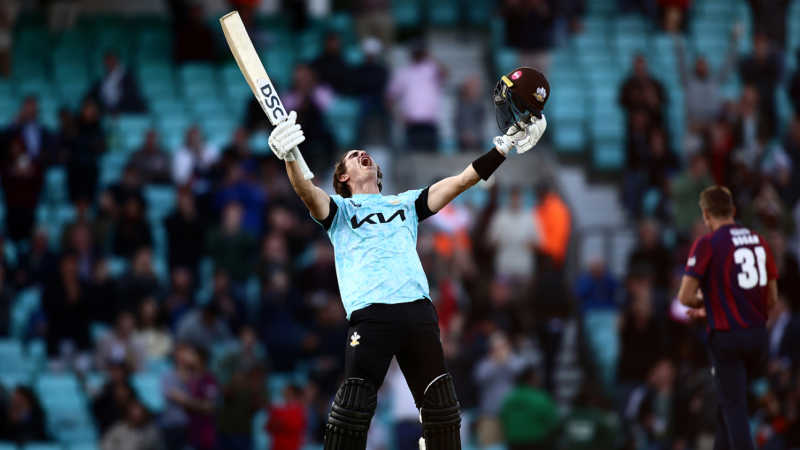 Sean Abbott celebrates reaching his century • Getty Images for Surrey CCC
Surrey 223 for 5 (Abbott 110) beat Kent 182 for 7 (Muyeye 59, Bell-Drummond 52) by 41 runs*
Sean Abbott's first thought about a glorious night he could never have envisaged was that he is no Andrew Symonds with the bat. That made his intervention at the Kia Oval all the more remarkable. He now shares with Symonds the joint-fastest T20 hundred ever made in England and the fourth fastest in T20 history after his 34-ball romp for Surrey in front of 17,000 spectators. He is no mean cricketer, but he just kept smiling at the absurdity of it all.
Kent had been pleasantly stunned by Symonds' hundred that night in Maidstone back in 2004 as the potential of T20 began to dawn. This time they were the fall guys, their control of Surrey's top-order abruptly surrendered to one of those nights when a recognised lower-order batter simply discovers a power within themselves that has never previously been witnessed.
Nigh-on two decades have followed since Symonds' revelation of T20's potential. Then the game invited scepticism and suspicion even in the country that had been daring and forward-thinking enough to present it to the world. As Abbott underlined once more, it has since become a game where anything is possible.
"I don't think people should be thinking about me and 'Roy' in the same breath," Abbott said, moments after his unbeaten 110 from 41 balls with four fours and 11 sixes (all but one between long on and deep square) became just the latest tale of the unexpected. "But it was a lot of fun. I was just grateful to find the middle of the bat."
He found it so often on his debut T20 appearance at Kia Oval that he now stands only four balls adrift of Chris Gayle's all-time record. He achieved the feat in the penultimate over by drilling his fellow Australian, the veteran seamer Michael Hogan, for successive sixes over extra cover. This from a seam bowler whose average in T20 was 10.91, who had never made more than 41 in 76 previous innings in this format, and who made only 51 runs as an afterthought in Sydney Sixers' 2022-23 Big Bash campaign.
Nobody doubts that he can bat - he has made good runs for Surrey in the Championship this season and has a first-class average of 22 - but this was only the second hundred of his professional career. Inspiration fell upon him.
It was Kent Day, the Feast of St Augustine, which celebrates the patron saint of Kent and first Archbishop of Canterbury. But this time the chomping was left to Abbott, whose saintly qualities are not even known in Windsor, New South Wales. He came in with Surrey 64 for 4 in 8.2 tentative overs. Sam Curran had just departed to a bit of catching practice at mid-off and the pitch cried out for somebody who would just give it a bit of a slug.
Thanks to Surrey's uncommon reliance on a bowler-heavy side, Abbott had that opportunity. He said later that he just didn't want to use up too many balls. With six overs remaining, Surrey were 118 for 5, Abbott on 28 from 17, and there was talk of how 170 would surpass Kia Oval's par score. But Surrey added 105 in the last five overs. First Kent's bowling fell apart then their fielding followed. They began like the side that finished top of South Group in 2021 and finished like the side that ended up bottom a year later.
Abbott first took a liking to the left-arm spin of George Linde - too short, six; too full, another six. He might have holed out during that over on 47, but Joey Evison, who had watched those two balls sail many miles over his head, could not make ground at long-off to the mishit.
Kane Richardson, another Australian in the firing line, then went for 30 (6-4-6-4-4-6) on the 18th over. Richardson opted for wide yorkers, but never nailed them, and Abbott, by now discovering his full repertoire, mixed delicate steers with lean-back heaves into a warm South London sky.
When one of those heaves malfunctioned against Evison, Linde, who had a bad night, leaned forward to fumble a sitter. With the century achieved against Hogan, there was time for laughter, too, as Richardson and Jack Leaning combined to pat-a-cake another blow into the boundary boards.
It was a far cry from Surrey's beginnings. It was good to see Sam Curran back in Surrey's side, captain, too, so soon after an IPL season in which he had been charged with living up to a record £1.85m price tag. "A season of many ups and downs, lots to learn from and come back stronger," he had tweeted. He can relax into a tournament where IPL price tags are the rarely a topic of crowd conversation.
Another of Surrey's IPL contingent, Jason Roy, was again absent with a minor calf injury, quite a coincidence after a fraught and highly-publicised week in which he abandoned his England incremental contract to sign for the MLC's inaugural tournament in the United States. The suggestion remains that he will see out Surrey's Blast season, and will miss the start of the MLC tournment if they reach the final stages, but cricket is in flux, Roy is one of the players at the centre of it, and nothing can be assumed to be set in stone.
In the meantime, Surrey's medical team will see rather more of him than Surrey supporters which is a common state of affairs that county cricket is finding increasingly hard to live with.
It was hard therefore not to recall the words of Alec Stewart, Surrey's director of cricket - and seemingly a contender to replace the late Mystic Meg - who remarked a week or so earlier about top English players attached to counties: "They go away and play elsewhere and when they come back they want time in the indoor school with the best coaches just to get ready to go off and play in another franchise competition. 'Oh and by the way I've got a little calf injury so can I get treated by the physio, the doctor, the medical staff and can I get rehab as well?' "
Sunil Narine stood in as opener during Surrey's victory against Middlesex at Lord's 24 hours earlier, but this time Surrey promoted Laurie Evans and make-do-and-mend with Abbott at No. 6. It all went rather well.
Kent made a spirited start with the bat as Daniel Bell-Drummond and Tawande Muyeye repeatedly peppered the boundary to reach 75 in the powerplay. Both reached half-centuries - Muyeye's first - but after Sunil Narine had Bell-Drummond caught in the deep, Kent crumbled. The last over was left to Abbott, the game won, his face full of smiles, but no wicket to add the final touch to his evening.
Vitality blast, just riveting memorable stuff, isn't it.
My son's U14 side just chased down 317 in the 68th over (70 a side) to win today. Best game of cricket I've seen
(Not state or national level but proud dad brag)
That's a great chase. Where are you playing cricket finals at this time of year?
Not finals.
They play a winter comp here in Brisbane. This was round 4
Yep makes sense. No idea where I got finals from
Lanning ruled out of the Ashes
Interesting. Hopefully he's fine but I'm nervous about him breaking down in a one off, winner takes all test match


I wonder if he or Boland will get the nod.
I know what you mean! Would be a great shame to lose him before the real contest begins, but I'm pretty sure they'll be cautious and if there is even a slither of doubt, he sits on the pine. Wonderful to have him in the mix, regardless.
10 needed off 2 balls. Jadeja hits a 6 and a 4 to secure the IPL for Chennai.
How much is the bowler getting paid?
Feels like yesterday
RIP Warnie
wow. - i had to check it was that Sean Abbott… the bowler. He's got a story to tell around the fireplace.