Ahh Hurley and Elvis two of my favourite things,The old man would be happy if he was alive
And the first step is going to be on his right foot.
I'll be watching from the couch.
Go Mick.
Go Bombers!
Mick was the first player we picked after my son was born, so he was going to be our guy.
Go well Mick, have lots of fun.
Hurley at full forward with Stewart nearby giving him a hand.
Francis and Baldwin haven't come up from their injuries.
Mass named too.
Yes, will be interesting to see whether Hurley plays as a fwd or a back!? Maybe with Baldwin and Francis out he plays fwd alongside Stewart and Voss. Although he could play back next to McBride and Eyre. I'd prefer him back. Might also depend on the GC structure.
No he's playing forward mate. Its now confirmed. He's been named at full forward. Stuza in the forward pocket.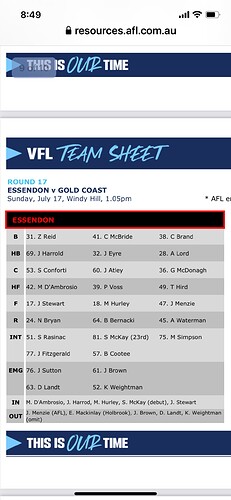 Great news.
Unfortunately no mention of Ham in that team.
Menzie is named in the team and as an Out.
Ham is in the shop window these days. As sub at least it can be said he was in the 23 weeks on end. Come end of season I'm afraid I can't see him being retained…
Sad but that's how it goes sometimes… AFL is s tough league.
I would like to see McBride moved to the forward line and be the ruck back up.
Be good to get a look at Mass up the ground a bit, looks great as a defender but nice to see what else he has.
Fair forward line.
Schrodinger's forward pocket.
Also confirmed that the D'Ambrosio down-back experiment is over.
That's a very good side on paper at least. It's a pity it's going to be such a sh!tty day, which may make it just a congested scrap with each team loading up defensively when going against the wind. Lots of things to look forward to seeing - Hurley, Mass potentially as a forward, another look at Menzie (in a good side), Brand, Eyre, McBride and Tom Hird, all of whom need to show what they can do in the remaining weeks.
Edit - anyone know much about what GC is like at VFL level?
I have to report that it's not such a sh!tty day as all that. A crosswind at the ground, but no gale. Faint showers from time to time but basically dry. Surprisingly warm
So who's there early with the inside info on Hurls & who is likely to be our sub (I know who we think but we can keep our

).
Edit: thank you @sandbelt. Keep the updates coming.
is mass playing should have had a week off 'get him ready for that little blonde ■■■■■■■■ next week
I don't know if you watched his game yesterday. He was taken high about 5 times, but didn't get a single free. Was being grabbed off the ball and brought heavily to ground all game with no reward, no matter how many times he dropped his weight, threw the arm up and threw his head backward.
yep saw that…they have to start paying a free kick for staging …