Snelling Watch it is, then.
Snelling. Gotta teach the phone. Snelling. Done.
TITLE EDIT: is being shown on Seven.
Good idea, dont want it auto-correcting to Smelling or even worse Swelling. "Swelling has got two guys on him"
Carlton can't stop smelling
11.40am ? What! I don't get out of bed on Sundays before Midday.
Can go to #2 if we win and Footscray lose, or drop as low as 5th. FC are 7th but have a game in hand so its not necessarily going to be easy.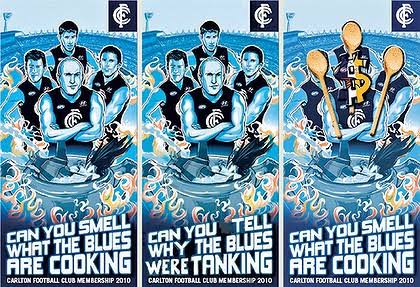 Should be a tiny bit earlier (seriously). The game will finish around 2:20 and you need to be on the 2:30 from Essendon Station to get to the MCG by 3:20.
It's a shame that it isn't a double header with the women the day before.
I might take off at 3/4 time to make the MCG in a relaxed manner.
when does one find out if the stream will be on the vfl website ?
On the VFL website, surprisingly.
They've already confirmed they're covering something else.
Ha. Goes to check for radio stations in the VFL app and discovers the game will be on telly. Title and first post have been edited accordingly.
B: 49. M. Dea, 36. M. Hartley, 30. B Zerk-Thatcher
HB: 46. T. Jok, 14. J. Ridley, 34. J. Long
C: 8. M. Gleeson, 37. D. Clarke, 23. D. Myers
HF: 33. B. Ham, 65. E. Sibbald, 24. J. Houlahan
F: 12. M. Baguley, 28. M. Brown, 22. I. Mosquito
R: 20. Z. Clarke, 39. T. Mynott, 76. W. Snelling
Int: 61. W. Berry, 51. J. Brown, 64. R. Connellan, 68. N. Dixon, 66. L. Goetz, 73. D. Guccione, 59. A. Heppell, 77. H. Hocking, 56. D. Landt, 70. L. Mckenna, 50. J. Tynan, 55. D. Younan
23P: 74. R. Bowman
–
In: Z. Clarke, J. Tynan, W. Snelling, W. Berry, D. Guccione, N. Dixon, D. Landt, J. Brown
Fark Northern
B: 19. A. Schumacher, 26. H. Macreadie, 39. D. Thomas
HB: 77. M. Blakey, 45. H. Goddard, 4. L. O'Brien
C: 46. M. Cottrell, 43. W. Setterfield, 29. C. Polson
HF: 69. S. Fisher, 36. P. Kerr, 21. J. Garlett
F: 32. A. Fasolo, 53. J. Palmer, 42. K. LeBois
R: 34. A. Phillips, 16. D. Lang, 2. P. Dow
Int: 75. F. Anderson, 61. K. Collins, 60. J. Hill, 80. K. Keppel, 27. M. Lobbe, 38. F. O'Dwyer, 55. J. O'Rourke, 44. M. Owies, 37. B. Silvagni, 52. M. Stavrou, 72. N. Wheeler, 73. O. White
23P: 65. S. Brazier
–
In: B. Silvagni, F. Anderson, K. Collins, S. Brazier, F. O'Dwyer, P. Dow, D. Thomas, A. Fasolo
Named in the first four of the AFL bench: Mo22ie, Baguley, the good Clarke
Named in the last four of the AFL bench: Ridley, the bad Clarke, Brown
Not named here and in the AFL squad: Guelfi, McNeice
76 Snelling? Highest number to play AFL is 58 Heath so this may be temporary
You are too good! Trevor Heath number 58 played as a reserve in 1971 in one game. Had previously starred in the Under 19s - another era.
And Trevor Heath was not a bad footballer in a dark time for the club - just a bit small.
I'll be coming off three overnights.
Gonna be a mess after two games of footy.
Fark Northern.
Where is Kurt Aylett? Big signing not sighted so far.
Must be injured as he is at all the games, often down by the interchange
Playing for Myrtleford this weekend!!