Per an Ugle video, looked like Ashley-Cooper and Meg Ryan were at VFLW training today.
Well, that's weird given the photo 13 days ago.
And here's the other half.
A few serious talls in this group (pre-season testing day, this was the 2km run).
Add Manfre (head-butting the goal post below) to the "she's back" list.
Possible Drew Ryan spotting (on bench getting her leg stretched) in the second video posted by laurabash_snc.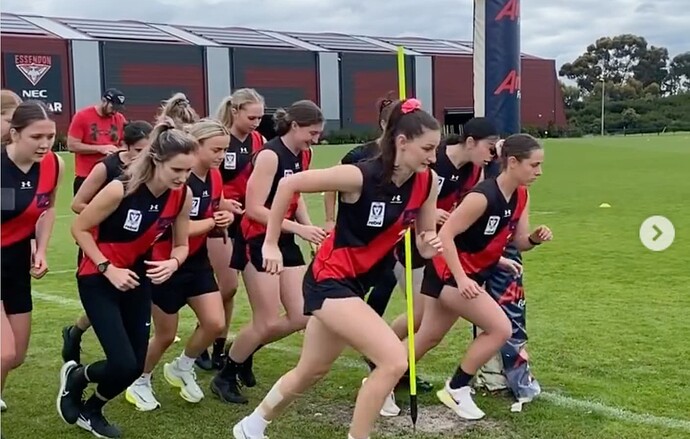 https://www.instagram.com/p/ClpJtU3hPAT/?utm_source=ig_web_copy_link
Oh, and Bella Clarke with her right arm in a sling at the end of the above clip.
Key defender roles are definitely covered. Let's hope some of those other talls are decent rucks/forwards!
More long-term thinking:
4 Pioneers in the forward-looking VIC Country squad of 20. Painter was a notable player in 2022, including being MVP for VIC Country in the U16 national carnival; don't know anything about Douglas or O'Rourke.
| # | NAME | SURNAME | HT | NAB LEAGUE PROGRAM | COMMUNITY CLUB |
| --- | --- | --- | --- | --- | --- |
| 1 | Lila | Keck | 161 | Bendigo Pioneers | Strathfieldsaye |
| 4 | Jemmika | Douglas | 165 | Bendigo Pioneers | Nangiloc |
| 5 | Lucia | Painter | 173 | Bendigo Pioneers | White Hills |
| 7 | Bryde | O'Rourke | 174 | Bendigo Pioneers | Strathfieldsaye |
Gardner new PBs: bench 50kg (meh) and squat 130kg (nice!)
Expansion on the VIC Country girls listed above.
Lila Keck (Bendigo Pioneers)
Midfielder/Forward | 20/10/2005 | 161cm
Keck is a pocket rocket with some serious X-factor and goal sense. Standing at 161cm, the Bendigo Pioneers young gun packs a punch and can turn games with her influence. At times her consistency is something she could build on and keeping her composure when things are not going her way, but when they are, she is near unstoppable, with her reading of the play and burst speed among some the best in the draft crop. She has also already represented Vic Country at Under 18s level where she picked up 14 disposals and three marks.
…
Bendigo's Bryde O'Rourke and … are other top-age players to remember.
…
BOTTOM-AGE TALENTS:
In what is looming as a bumper crop of 2024 AFL Women's Draft hopefuls, two Vic Country names standout among the rest. Bendigo Pioneers' Lucia Painter and … had outstanding Under 16s seasons for their respective NAB League clubs, and got it done in Vic Country colours as well.
Painter is an explosive mover from the stoppage, who is equally smart and tough, and can tear opponents to shreds in multiple ways. Both players are more than capable of playing on multiple lines
…
Bendigo Pioneers' Jemmika Douglasis a versatile talent who is evasive and clean, while also been competitive
@theDJR has there been any comms on the AFLW draft in 2023? A couple of weeks ago the AFaiL said that there was likely to be two drafts, but I haven't seen anything else.
Wrong thread, but they seem to have gone a bit cold on the idea of a "old players only" draft early in 2023. I'm not sure what the point of that was if they're still doing the main draft and season at a time when the kids are trying to finish year 12. All it will do is churn through marginal players quicker.
I thought it may impact our VFLW team as any 'older draftees' would spend their some time in the VFLW team prior to the AFLW start.
I would think there would be little impact as those drafted in the "old players" draft would probably mostly be kids who missed out last year. Admittedly it's a bit hard to categorically state whether the last draft skewed away from the kids because of the scheduling, given the intervention of the four new teams. It's not like any actual oldies have had the chance to prove anything since the last draft.
(Yes, there are a very few exceptions to that, notably including Nalder being a top-up for the Saints and playing 6 games.)
VIC Metro hub of 22 players has 2 Cannons. Profile for Gaylor has been promised.
| NAME | SURNAME | HT | NAB LEAGUE PROGRAM | COMMUNITY CLUB |
| --- | --- | --- | --- | --- |
| Kyla | Forbes | 167 | Calder Cannons | Aberfeldie |
| Amy | Gaylor | 170 | Calder Cannons | Strathmore |
And Peter Williams delivers:
Amy Gaylor (Calder Cannons)
Inside Midfielder | 23/08/2005 | 170cm
A tough and clean inside midfielder, Gaylor was a clear standout for the Cannons in her bottom-age year, and her emergence allowed Abbey McDonald to continue in a variety of roles on the outside. Gaylor shows no fear when attacking the contest and boasts a clean set of hands at ground level, winning the hardball gets and supplying teammates with crucial handballs. Though able to win her own ball when working to the outside, her work outside the coalface will be the next area that can take her game to another level.
I hope the Vflw management aren't as stupid as the Aflw management were and give Courtney Ugle another contract for 2023.
I hope one day you take Courtney's advice and stop hating everything.
And yes, she's a one-team girl.
Who said it was from hate?
It was just bad decision making not giving her an Aflw contract.
Seventeen other teams failed to give Ugle an AFLW contract which suggests she's not rated as AFLW standard.