Well I bet 16 of them are spewin they didn't now
In 2017, all the AFLW clubs passed on Ash Riddell.
Turned out to be an absolute gun when signed the following year by Norf!
The difference is that Riddell was 21 in 2017 while Ugle is 26 - Then you add in the increased talented pathways in the last 5 years and the job is harder for Ugle.
Various other "last training day" photos/videos, and I can provide zero extra recognisable players.
AFLW #1 Caitlin Sargent present and is probably going to want to get some extra games into herself before the next AFLW season.
Bella no longer has her arm in a sling.
The list rules for the 2022 VFLW season were (summary):
Standalone clubs will have lists of 40, with AFLW-aligned able to sign 30 non-AFLW players
Once the AFLW season is complete, all clubs can sign an additional 15 AFLW players
AFLW-aligned teams must field five under-22 development players, while standalone clubs must play three
Indigenous players who are yet to make their VFLW debut, NAB League players and NGA members can be signed as Category B development players
So rule 1 nominally reduces our list by 10 (but see the comment below the line later on).
But rule 2 means we can bring in 15 AFLW players (not necessarily from our AFLW list). This rule may or may not change given the AFLW and VFLW seasons no longer overlap.
Rule 3 means up to two more kids-ish players each week.
Rule 4: more Tiwis, please. Depending on the scheduling of the NAB League, players may be available to us earlier than in previous years. I assume the AFL will want to continue to run the junior girl and boy seasons with minimal overlap.
---
For the record: we started 2022 with 30 senior players on our list and 8 development players (including 27yo Radford

), so 2 short of what was allowed.
We added (at least) 9 more players during the year. That included Barba after the AFLW season ended, with everyone else being an 18-19yo out of the NAB League (4 of the 8 got to play).
Back on those likely junior top-up inclusions: Cannon Amy Gaylor training as part of the AFLW Academy at The Hangar.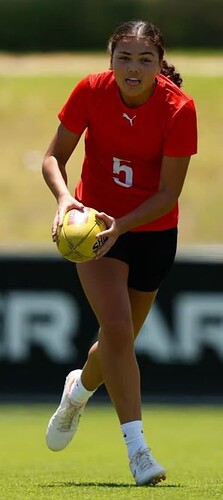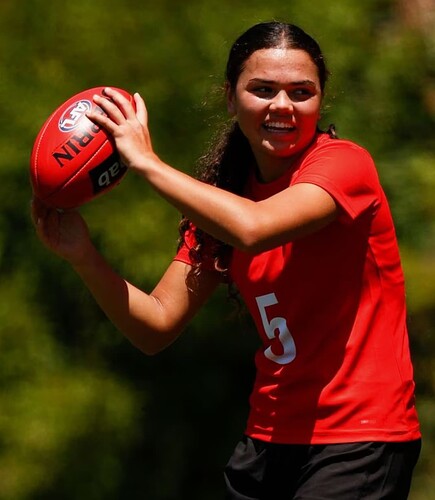 I don't think this is new news, but:
Clubs can field AFLW-listed players from round one of the VFLW season
180cm Western Jet Krystal Russell appears to be training with us.
"Krystal Russell lead the NAB League Girls for hitouts in both 2021 and 2022, and booted the sole goal of her Western Jets career with the very last kick of the season – it just so happened to win her side the 2022 premiership."
If today's posting is indeed from last night… Mia-Rae is very busy.
https://www.instagram.com/p/CoGrUdRBchO/
Seems we have a Melanie Bateman from Murray South East, or QLD, or with a basketball background in the USA. Or all of that, and presumably one of the first two featured.