We won the second half, but if you give up a 40 point lead in the first…
Perkins gets no-sold by her little sausage dog. Runs straight past her.
We got spanked in the first half 46-6: Perkins and her fellow forward monsters destroyed us. The second half went 14-10 our way, to our credit. I didn't get the feeling the Hawks slacked off, we just knuckled down and beat them. But it was too late.
We lost all of the main stats bar tackles (74-68).
Bullas had a bit of a dud (11 disposals, 4 tackles) but Anderson (23 and 5 tackles) and especially Audley (21 and 13 tackles) were very good. Easily Audley's best game for us; she's a tiny terrier.
Heil (17) and Ahrens (15) were kept busy rebounding Hawk attacks. Ahrens' long kicking is so important to our game.
Nalder struggled to beat a fleet of competitors (20-40 for hit-outs overall) and that really hurt us early.
Svarc went off pretty early with a smashed nose, so no fun runs today
Our balance was off with just Quigley and Stepnell as key forwards (with the latter also acting as second ruck). Needed a DeMatteo or a Moreen desparately.
(Moreen and Puruntatameri are still here, and apparently healthy. Why isn't at least Moreen playing?!? Rookie limits???)
Ugle only 8 disposals but damn she inspires as a captain.
CBomb McIntosh continues to pick up form. Not getting enough but it's quality.
Wilson was a decent forward today (11 disposals and a goal).
Trevean is decent.
I'm guessing late inclusion 44 was Georgia Patriokis. Loved her hard-at-it attitude and tackling. Got some skills too.
The Dons were outclassed from the opening bounce, as the reigning premiers soared to claim the 3.2 (20) to 8.8 (56) victory.
Losing key player Ruby Svarc (broken nose) in the first half restrained the Bombers' chances of a comeback, and the margin proved too big of a challenge to overcome.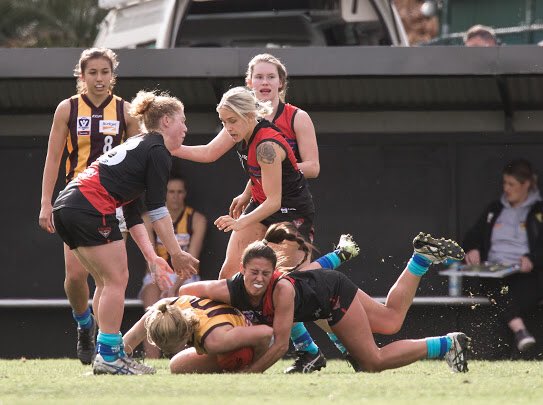 ]
Hawthorn dominated play early scoring three goals in the opening minutes, while a quick snap from Sian Wilson brought it back to a 15-point deficit at the first break.
The Hawks again broke away with the lead, scoring four unanswered goals in the second term, but Essendon's back six, including Lauren Ahrens, Kirby Hicks and Kendra Heil worked overtime to give their team first use of the footy.
The Dons struggled to break the early momentum, handing the visitors their 40-point lead into the main break.
Both teams struggled to gain possession in the third term, with the first major scored seven minutes in via Hawthorn's Meg Hutchins.
Although it was the Hawks who hit the scoreboard early, the Bombers' defence did well to stem their momentum.
Cecilia McIntosh and Alex Morcom impressed, cutting off the Hawks' attempts to move the ball forward, while Alex Quigley's soccer-style goal kept the Bombers on the scoreboard.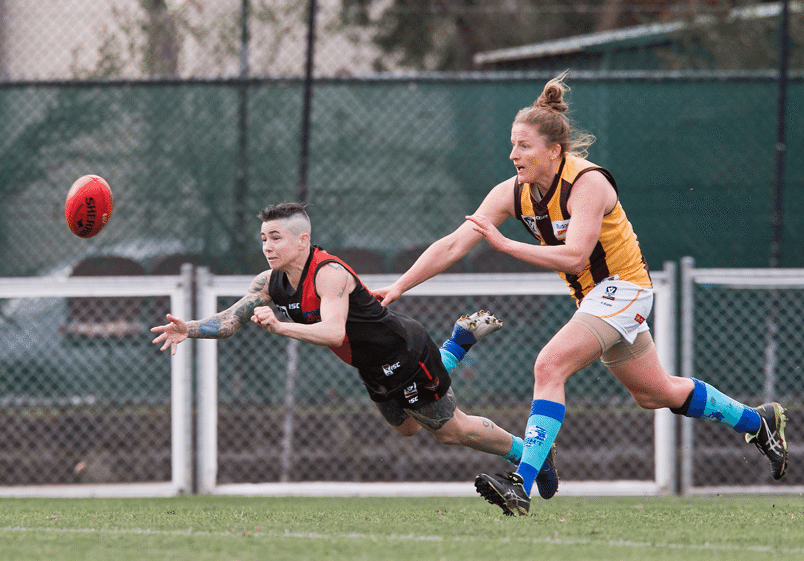 Cecilia McIntosh displays her athleticism against the Hawks. (Image: Ben Johnstone)
Essendon carried its intensity into the final term as it looked to get the game back on its defensive terms.
AFLW-listed talent Shae Audley (Carlton), Georgia Nanscawen (North Melbourne) and Maddy Collier (West Coast) impressed with their toughness, converting their midfield dominance into attack.
The Bombers controlled the majority of the contest in the last quarter and were clinical in keeping the visitors scoreless, while a goal to Jessica Stassi saw the team rewarded for their efforts.
Jessica Stassi was one of Essendon's three goalkickers on Saturday. (Image: Ben Johnstone)
The Dons held their ground against the reigning premiership side and defended gamely under siege as the game came to a close.
Coach Brendan Major said it was a commendable effort despite the outcome.
"Our second half was much better. We showed in the second half that we can adjust, and we can take it to teams like Hawthorn," Major said.
"But we know where we are in the development as a group, we're a bit off them.
"They're a premiership team from last year, they're a big-bodied team, they're very well coached and well drilled and we just got caught a little bit flat footed in the first half.
"We've got to adjust that, and we've got to know that we can play and be competitive against teams in that bracket."

Brendan Major addresses his troops at Windy Hill. (Image: Ben Johnstone)
Essendon VFLW will take on NT Thunder at TIO Stadium next Saturday.
Looking ahead, Major said preparations will remain unchanged.
"Where the development of our group is at, we spend all week worrying about what we're doing," he said.
"Our group is not at the point where we can continually adjust our game plan to what we play against, week in, week out.
"So, we play a really simple game plan, we will just work through and prepare exactly the same way as we have been preparing for any other group."
The first bounce will be at 3:30pm (ACST) on June 22.
Essendon 1.0 1.0 2.1 3.2 (20)
Hawthorn 3.3 7.4 8.7 8.8 (56)
GOALS
Essendon – Wilson, Quigley, Stassi
Hawthorn – Flanagan 3, Dillon, Beeson, Membrey, Mcwilliams, Hutchins
Victoria Raptis is in the final year of her Bachelor of Communications (Journalism) degree at RMIT University. As part of their strategic partnership, Essendon Football Club and RMIT University are committed to providing opportunities for students, staff, players and the wider community.
Side note: we're not Darebin (hell, Darebin ain't Darebin as you know it) . Lost 1-79 to Collingwood…
Hawthorn boasts a wealth of height on its 2019 list, with 13 players standing over 172cm tall in the team that accounted for Essendon (the Bombers had only four).
We had a couple Tiwis well over that height in the stands, though.
ROUND 6 STATS LEADERS
TACKLES (13): Shae Audley (Essendon) and Hannah Martin (NT Thunder)