A noble spirit embiggens the smallest man.
And don't tell me embiggens isn't a word. It's a perfectly cromulent word
I don't think I would have watched 10 episodes in full, let alone remember any of them
Homer Badman
I don't mean to cause any offence, but what the ■■■■■■■ ■■■■ is wrong with you. I mean Jesus Christ what the ■■■■
No offence of course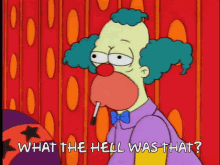 I've moved people out of my team if they don't recognise basic Simpson's references.
No idea why but the way Bob says "NO" here gets me Every time
I do love that bit.
"He's spinning the ball on his finger - just take it!"
Two that spring to mind are:
Homer the Heretic
Flamin' Moes
Roasting on an open fire 1989 "Santas little helper first appearance"
This may be the single greatest 30 seconds the show's ever done.
I made sure I told David Silverman in person.