So @Brasha is running for the board?
I'm voting for him
elected without a vote cast in anger
Tanner and Brasher to be declared elected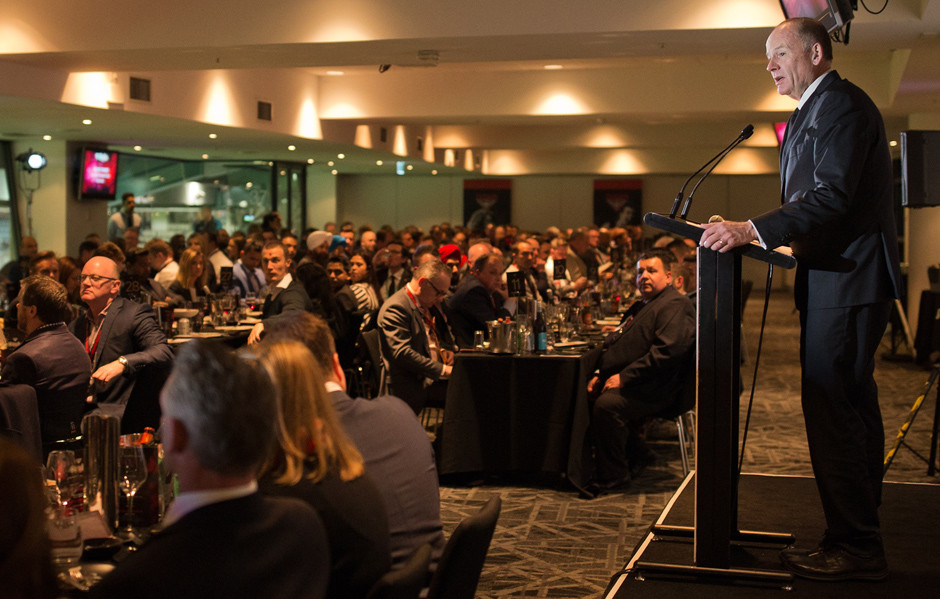 Essendon Chairman Lindsay Tanner (above) and Deputy Chairman Paul Brasher are set to extend their terms.
Essendon Football Club is pleased to announce that Chairman Lindsay Tanner and Deputy Chairman and Finance Director Paul Brasher will be declared elected for further three-year terms as Club Directors at the Annual General Meeting in December.
Under the Club's Constitution, if the number of Eligible Members nominated for election as Directors does not exceed the number of vacancies, then those persons nominated are deemed to have been duly elected.
Tanner joined the Bombers' Board in 2015 following 17 years as the MP for Melbourne in the Australian Parliament. Currently, he works as a special advisor to Lazard, a financial advisory and asset management firm and is also a Board member for Virgin International Australia, VICT, Covata Ltd and chairs the Mitchell Institute for Health and Education Research.
Brasher was first appointed to the Board in 2011. He also serves as Chair of the Audit, Risk & Integrity Committee and is a member of the Remuneration Committee.
Essendon will hold its Annual General Meeting and Member Forum on Monday 17th December at Marvel Stadium.
The Election of Directors will remain an agenda item for the AGM, where there will be a formal declaration of the elections of Tanner and Brasher for further terms.
For more details, CLICK HERE .
Da faq's happened to our website?
Plain and ordinary, … yet an absolute mess.
Can any of you legal eagles, summarise whether we should be voting to change the club constitution or not.
http://www.essendonfc.com.au/agm
All they have attached is the current and proposed
modified constituion, and i cant be stuffed reading through the entire documents to see what the changes are?
Some of the key proposed changes include:
Assisting the Club to achieve significant cost and environmental benefits by providing for an opt out system to receive notices under the Constitution through electronic means, rather than by post;
Adopting gender-neutral language through the adoption of the terms 'President' and 'Vice President' in place of 'Chairman' and 'Deputy Chairman';
No longer reserving a Board position reserved for an Executive Officer of the Club, giving greater flexibility to appoint the most suitable individual to this position; and
Modernising provisions relating to applications for membership to better facilitate telephone and online requests.

Just wondering if they are also sneaking through something else.
They're sneaking a few things through… On exactly that premis… people can't be bothered reading it.
Be vigilant
The only thing I want out of this thread bump is for @Red_Emperor to out himself.
Should have saved bumping this after next years 80pt loss on ANZAC day cements us in 18th spot
It may just be me…but this all feels slightly underhanded.
Of 39 suggested constitutional changes, most are a given, then, hidden away, are a couple which are a bit more significant like the changes to the board selection, which is a big deal.
Some wont realise that's what they're voting for…some will see 'email corresdondance' and think environmentally responsible. That these are lumped together in an all or nothing vote is reprehensible IMO.
Interested in the thoughts of others.
You can go to the meeting I guess and bring up your concerns.
Best I go read my emails. Thanks @Darli
Thankyou
Please explain the proposed changes to the Board selection
Currently there are 9 directors, 6 elected, 3 appointed plus the option of an executive director ie someone from the executive.
They are proposing removing the executive director and making it an open appointment - thus making 4 appointed directors.
This may be a good thing, it may be a bad thing, but the way it's being manipulated without any real consultation doesn't sit well with me.
I'm also not a fan of fixing the minimum amount of times the board must meet a year to eight.
I'm happy to answer any questions on this. There is also a Q&A next Thursday night at Windy Hill for anyone that would like to discuss any of the proposed changes with Xavier, our general counsel and i'm sure, some directors (I will be there).
The constitution review is the last of the governance enhancements the club wanted to undertake after the last few years. The proposed 10th board seat is about giving future boards flexibility to bring in skills that may be necessary short term, while removing a rather unique - according to our constitutional lawyers - lock down on the seat being reserved for the CEO or an executive member.
There is no change to the 6 elected seats, as outlined in the constitution. The current constitution uses the same language of 'up to' or 'no more than':
"The business and affairs of the Club will be managed by a Board which will
consist of between nine and ten Directors, constituted by not more than six
Elected Directors, and not more than three Appointed Directors and an
executive officer if appointed as a Director under clause 71."
The change to the meeting amount is about allowing the board to decide whether it needs to meet 12 times a year. Personally I am of the belief that the board does, and I know my fellow directors do, so this is about allowing some flexibility around how meetings might be scheduled throughout the year & in the future.
Totally happy to answer questions where I can - but if you have concerns I highly recommend you contact the club or come along to Windy Hill next Thursday
Hey @Laverde2Langford, I've put the link here to the information you requested… let's keep the Matty Dea thread about Matty Dea!

I, for one, welcome the return of essendon to the dodgy of the 90s.
I'm certainly happy for the CEO not to be on the board ex-officio. That seemed to be a Peter Jackson con.