What are your Lib mates getting paid for signage?
I don't think anyone is going to come out looking like a goose. It's a very difficult election to read.
There's a lot of noise.
reckon ive seen more lib signs this year than any other year in stronghold western suburbs
Well that is cheaper than getting an Uber to do it. Obviously good economic managers.
Skewed polls by partisan media have been shown to influence late swinging and indifferent voters. It's another campaign tool, this time employed over a period of a couple of weeks leading in. Murfuch.
In my electorate there are householders willing to allow signage on their properties free of charge. The candidates don't have enough in their campaign funds to pay for the signage.
Latest chaper in the Failing Ever Upward Until You Do it in the Wrong Country Meritocracy Chronicles. You can slag off the PM in his(our) own house and get a promotion from Rupes…
Not even a close relationship with News Corp co-chairman Lachlan Murdoch and his wife Sarah could save Christopher Dore's career at the company after his alleged drunken behaviour in California last month.
According to sources, senior executives at News Corp had witnessed highly inappropriate, drunken behaviour by Dore, long before his attendance at a party at Laguna Beach which the Guardian understands led to him losing his job.
The alleged drunken behaviour at the WSJ Tech Live event hosted by News Corp's global chief, Robert Thomson, and executives from Murdoch's Wall Street Journal, was the last straw, sources told Weekly Beast.
When Dore was editor of the Daily Telegraph in 2016 he attended a New Year's Eve party, described by former prime minister Malcolm Turnbull in his autobiography A Bigger Picture.
"We held a New Year's Eve party at Kirribilli House (at my own expense) and watched the fireworks from the governor general's lawn – apart from a tirade of drunken abuse from one of Murdoch's editors, it was a congenial evening," Turnbull wrote.
Several sources said Dore was the editor in question and he was "incoherently drunk" at the party, which was also attended by the Australian's then editor Paul Whittaker and his wife, and the chairman of News Corp's Herald and Weekly Times group (and Rupert Murdoch's niece) Penny Fowler.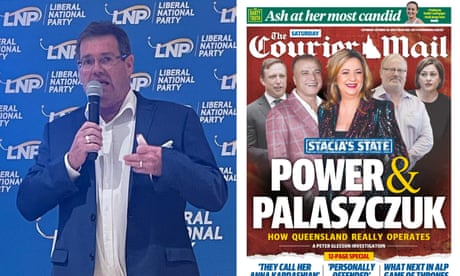 Peter Gleeson leaves News Corp's Courier-Mail and Sky News after multiple instances of plagiarism
Read more

It is understood that at least some of the "drunken abuse" Dore meted out was directed at the prime minister himself, at the gathering attended by friends, media executives, several members of Turnbull's ministry and staff.
Despite this allegedly inappropriate drunken behaviour at the governor general's official Sydney residence being apparently well known at Holt Street, Dore was promoted to editor-in-chief of the national broadsheet in 2018, the fourth Murdoch masthead he edited in his 31-year career.
The company says that Dore quit due to ill health. Two days after the shock announcement editor Michelle Gunn told staff she understood they were "feeling heavy of heart" after Dore left due to "personal health issues".
"Chris wants you all to know that he is going to be OK," Gunn said. "And he knows that you all join me in sending him every good wish."
Nice to know that such behaviour is only "allegedly inappropriate".
LOL don't have any, they all hate Libs as much as I hate Dan.
■■■■■■■, the media are giving Dan a kicking.
Media front pages for today:
News. com .au

TheRage:

HScum:

Guardian:

SkyPuke

sigh
It's not the measure of the guy, but geez Guy struggles with the most softball of questions.
Andrews was roundly criticised for voting early. I'm sure right now he's being criticised for choosing toast over weet bix and imported bean coffee ground at home over not supporting small business with a Magic
from the local café in the Lifestyle section.
Because he's scared to be seen in his own electorate.
Just…the level of utter tosh that's like acid off a duck's back these days.
Like he won't be there today anyway.
Like he wouldn't have been there during the last week.
Not that it matters in any way at all, but if forced to hold a view then I'd say it's a good thing for a leader to be shown voting early.
Something like a third of voters do now?
We don't all have the privilege of Saturdays off.
I wonder if he was told to vote early as the hate campaign has been really strong and there may have been credible threats made against him?
Hadn't considered that, but cookers gonna cook.
Probably a smart call.
When's the earliest they can call this?
I don't believe the trashy articles, ALP with an easy win.
Stabby in the backseat yelling "Are we there yet?"
"Yes dear, just a few more minutes"