Should ask him to retire and give someone else a go.
They have a decent young replacement coming up in Hayden McLean. If Logan McDonald can find some form after his latest injury setback then I reckon the Swans will have their key forward stocks sorted for a decade or so.
He is still being tasked with plating CHF, and he is not up to it. Never a great contested mark, he was the quintessential lead up forward, but with Logan McDonald out he is being asked to play a more traditional role, and it doesn't suit him. As a result he is being found out and he has lost a bit of pace and agility. He is struggling big time. Horse certainly needs to find a new role for him, HFF/third tall.
For his own good he needs to retire
Since he is so reluctant to make that decision, the Swans need to make the decision for him. The AFaiL are also complicit, in that they haven't cut him loose before now, but have enabled him.
It's all a bit disturbing.
And if its not the swans it needs to be the AFL.
Have some balls, refuse to medically clear him.
Yeah nah, Damo. Comparing the AFL to the NFL and Superbowl appearances is fairly specious. How many teams, conferences etc… Nah, Damo. And with the concessions Sydney get? Nah. Without a backline… About as accurate as this his column being about Sliding Doors moments.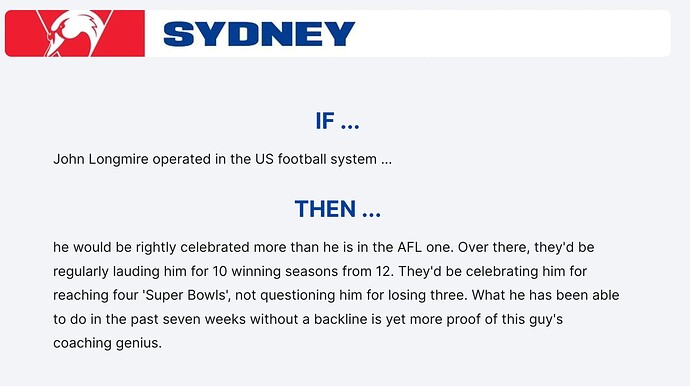 I refuse to open any article or video I know that cretin has a hand in.
The lowest form of life is a battle closely fought between Damo and Carro for mine
And you've left out two Sams, two Toms and Kane Cornes too.
Cornes I at least get a giggle out of if you take it all as the ultimate troll, he can't honestly believe half the stuff he says it has to be for a rise.
Cal and his little mate Riley are two of the good guys, I can cop Mitch but since going to 7 has been a little less enjoyable
7 year deal for that weird looking lizard ■■■■
Waaht?
Wow they must have a cooked cap or they are going fishing for someone big this offseason.
AFL Media dept lol. Best photo they could come up with.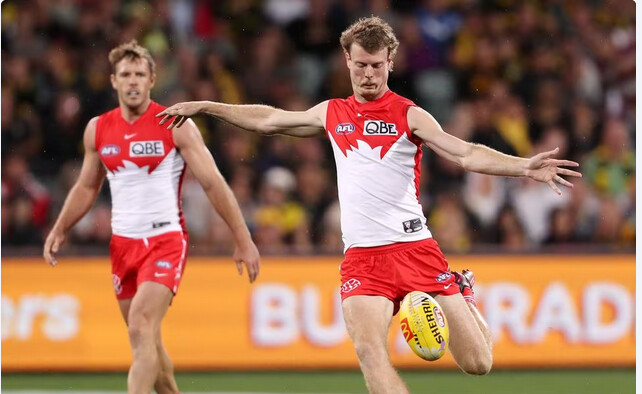 You can't make raspberry jam out of horse manure.
Someone needs @Bomb_Doe to do some photoshopping there.
Giving the lizard a long back ended contract, buddy money freeing up.
Swan's definitely cooking something up in the off season.
He's an absolute ripper the Lizard. He is the main source of their spark and creativity. And this year more than previous he's also showing that he can be very useful playing as a genuine tall (taking key marks and being accountable for a tall forward) when required. Good signature to get and I don't think they'll regret the tenure.
Dusty giving don't argues in Sydney town till the early morning…