Would have been very tempted if it was dry and Joe was playing
Well that's on you I guess.
Though I'm the same as you on the second part.
Brown and McKernan (if they play) will be very underdone and will struggle to make an impact I believe.
Why would Brown be underdone? He would have maintained fitness during his hand injury surely?
I'd rather role the dice on brown than smack, if Smack reinjures his hammie is far more likely that Brown cops another knock and fractures his arm again.
I feel like it is my role to make a pun here, but nothing is coming to mind.
Can we give brown a massive protective cast like Llody had when he smashed some hawks face in with?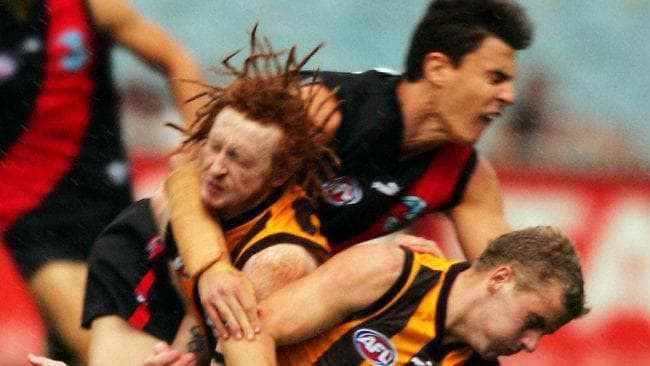 Why would he re injure his hammy? He had 6 weeks off to prevent exactly that
Out: Daniher / Zaharakis Both injured. Begley
In: Ridley / Smack & Brown
Zaka hasn't trained all week & has a sore heel. Daniher has groin issue that required season ending surgery.
Brown to replace Begley who needs more game fitness & get his kicking spot on.
Ridley to replace Zaka on the wing & through middle. A very important inclusion.
Smack to replace Spray em Daniher as a lead up forward to give us some hope of winning.
I thought that maybe Myers might be in but who would he replace?
McNeice is lucky to stay in the side, but against the smallish quick tigers forwards he is needed to stop someone.
Actually wouldn't mind Mozzie playing his debut instead of Brown playing. That works for me.
If players never play they can't get injured
Fact.
The significant rituals and ceremony before this game notwithstanding I can't help this " isn't it nice of the guards to give us each a cigarette" feeling .
Zaka is fine because he wasn't mentioned in Crowey's injury report. We know that report is legit nothing to hide.
Is the tea lady still a thing?
A funny thing about footy is that I'm absolutely confident that the ball always comes back out of our 50.
Sometimes it's because the umpires are running it back for a centre bounce. Hopefully a lot of times.
how about on the day we learned we've lost a key forward for the year based on mismanagement of him returning from injury, that we you know, don't play anyone who is a good chance of re injuring themselves ???
esp in a game where we are most likely going to lose whether they play or not .
and ■■■■ it just go a midget forwardline and tell them to always be on the move, do the Port chaos ball forward trick from the west coast game and just pray.
no underdone, injury risk players, at all just no.
Not fact.
Jumping off walls while p*ssed, garden implements, kitchen accidents etc etc etc.
The games history is chock full of contra examples.
Do you trust our medical team to make that assessment? I don't.