That's kinda the same feeling I had with Billy Joel.
Elton was a trouper. Got wet along with most of the crowd. It peed down. Had roadies towelling puddles off the piano! Main gripe for some would be the video screens ifyou were up the far end. A lot of songs had pre recorded dance videos instead of showing Reg.
Going to the Chili Peppers on 7th & 9th, then 1000 Mods later in Feb, then Mudhoney in late April.
It's been a while since we've be been to gigs. It was something I did almost religiously in the past. Not so much a fan of crowds these days but looking forward to them.
Which Mudhoney show?
I'm doing
Mudhoney @ corner hotel 27th
Helmet @ Croxton 28th
Mudhoney @ Torquay 29th
…
Mudhoney + Cosmic Psychos 30th @ cherry bar (haven't asked for a leave pass yet…)
Do you guys know if Cherry Rock is an all ages gig? Hoping to take my 15 year old and can't see any 18+ restrictions on the ticket site or facebook event page.
I very much doubt Cherry Rock is all ages.
It hasn't been in the past.
That Cherry Bar gig is insane.
Any tickets left?
Weirdest gig lineup/location for a while.
Smashing pumpkins
James addiction
Amyl & the sniffers
Plus wrestling!!
And Kryal Castle? Hastings foreshore?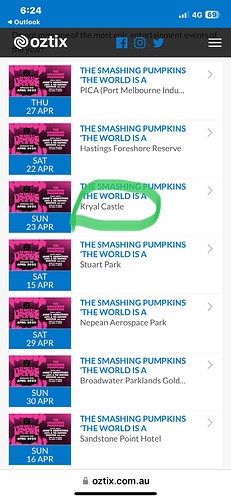 I swear. If you are too young to remember what the '90s were like, next couple months is a snapshot.
Bad religion
Mudhoney
Helmet
Smashing pumpkins
Janes addiction
I think there's tickets, but it's not at cherry bar. Also announced SLIFT which I think is a French psych rock band. Some cool stuff. Odd to add them to same bill.
Wasn't Kryal Castle rave central for a while?
Yeah.
One day I drove out there and there were legit role playing people dressed in all the regalia l. Wenches, knights, friars. They were doing mock battles and had a little ye olde township set up.
I played them in a DJ blonde comp awhile back, they are great.
I'm so going to that Pumpkins and Jane's Addiction gig at Hastings.
It's a good spot for a gig.
Is it camping?
Would seem like a farkin random place to have a gig.
Anyone ever been to Hastings?
Only when I needed to bury a body.
I went to a festival there last year. It's a good spot, they do a bunch of gigs there now.
Nah, not camping, but it is a mile away from anywhere. Except my mates place which is walking distance.
Yep live 20mins from there. Easy to ge there and the foreshore area is a good spot for a gig. Go if you can.