Giants need cap relief and points for their academy player ranked around 20.
Deal will be for our two 3rd round picks (51 and 56). Bookmark it.
I just got excited when I saw the club had emailed me and I thought "here we go"… but it was an ad for Coles…
I have it on good authority GWS are referencing Bomberblitz about these trades and the real values.
McCartney I am pretty sure is being heavily influenced by @Heather_Mills
I am leaning towards this relationship running out of legs soon though.
Do we have Ricky Bobby yet?
I guess jackets is using the tactic of walking away to force their hand?
Risky but might just bring them back to the table…
Or blow up in our face and we watch him become betts 2.0 at north
I said the same thing and the Blitz Butt Hurters (BBH) came for me. But you got 10 likes

Of course it isn't a good look.
Re Bobby Hill return form the break fitness levels……Agree @Aceman - at least we can get ahead of curve with him in terms of professional standards now (thankfully) expected by EFC
AFL trade news day five: Rory Lobb GWS deal | Herald Sun
Rory Lobb's manager says his trade to GWS is off for good after the Giants could not come up with a suitable contract offer.
Colin Young told News Corp he emailed all parties, including GWS and Fremantle, at 7.30pm on Sunday to tell them the trade could not be completed.
He would not reveal the GWS offer, but said Fremantle forward Lobb was willing to take a "huge" pay cut that was still not enough to get the Giants interested.
He said it was not a negotiating play, with the deal dead in the water and Lobb happy to play with Fremantle next year.
GWS forward Bobby Hill is also part of Young's Corporate Sports Australia management group but there a level of optimism his trade to Essendon will still go through.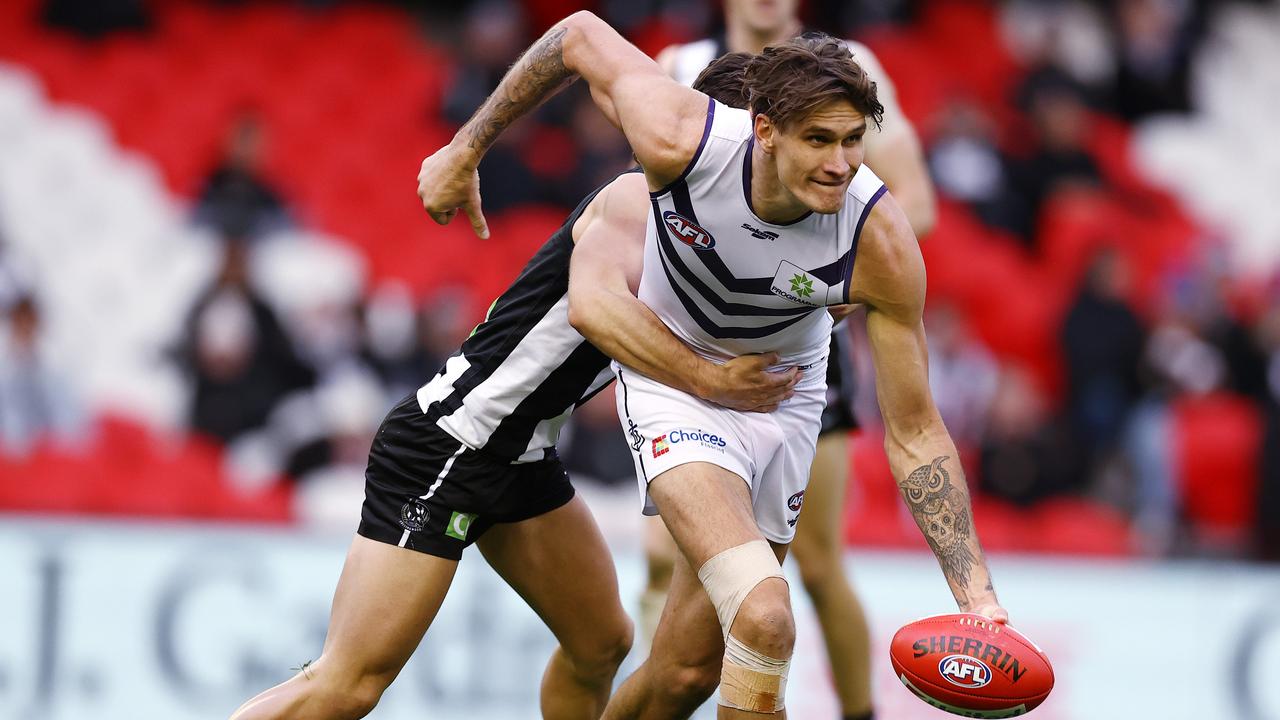 It doesn't look like Rory Lobb will return to the Giants during the trade period. Picture: Michael Klein
Young told News Corp the Giants were unwilling to structure a deal that could have facilitated a trade.
"It's off. As far as I know there is no coming back," he said.
"GWS asked if we could facilitate a possible trade and it was no guarantee to happen but we explored it and couldn't get it off the ground. I have known about Bobby's trade for some time and thought it might all work but I knew on Friday it was unlikely so sent an email to all parties at 7.30pm last night," he said.
"These deals don't come around very often and I thought it would be a win-win for all parties but we couldn't get it off the ground. Rory was willing to take a pay cut but it didn't happen."
Hill's salary for 2022 was close to $400,000, so the Giants would not have had to find much more money for a roughly $500,000 per season contract.
But they might have had to back-end Lobb's deal, given salary cap commitments in coming years, which could have caused problems for their cap
Given Lobb's output, he should be bloody happy to play at Freo for $700k
Hill is only worth a Lepinski ffs!
Thank god Jackets said ■■■■ it and picked Zerrett instead of Lobb.
Confused?
Bobby's trade or Lobby's trade?
Is he mixing up his players in this statement?
How do you figure three? Caldwell (yes), Dunkley (no), Wright (yes), Hill (pending). That's four.
Like when he said *** it, I'm taking Steinberg.
Given their cap issues, it's worse for GWS if the Hill deal falls through because they won't accept a third.
Watch McCartney buckle.